Beaches Resorts, especially Beaches Turks and Caicos, is my happy place. I'll do the heavy lifting and share the 13 best Beaches Resorts food options.
Want to know more? Click the affiliate links that may earn me a commission for more info on Beaches Turks and Caicos.
If you haven't booked your vacation, do it now! The best deals and promos for your Beaches Resorts trip are right here.
With so many restaurants, you don't usually have time to enjoy them all. Thankfully, over the years I've had just about everything there is to eat at the resorts.
It also helps that I have friends who are willing to share their food. Beaches Resorts in Turks and Caicos has 21 restaurants. Plus two food trucks. Most are open for more than one meal, though many are closed some days for one or more meals.
That means even if you stay for a week, it's hard to eat everywhere and enjoy everything the all inclusive resort has to offer.
One tip, you can eat at multiple restaurants for a single "meal." Maybe you want to do appetizers at Soy and dinner at Le Petit Chateau, then dessert at Sky. You can do that.
You can also eat a full meal at Schooner's then have another full meal at The Cricketer's Pub. It's allowed.
While you have to provide your name and room number when you check into a restaurant, you aren't limited to a single restaurant or meal.
In fact, I've heard stories about a family staying when we did that started at one end of the resort and ate their way across most nights. I don't recommend that, but you can eat as much as you want.
What's Not Included in the 13 Best Beaches Resorts Food Options
Cafe de Paris is a perfect spot to grab a quick snack at any time of day. This is where you want to go for the perfect coffee or to get a bite of dessert. To me, they don't offer a full meal, so I left them off my list (and yes, I know my last two items are cheating but do not miss them).
I also left off the jerk pork at The Jerk Shack by Arizona's. I got a tiny bit, knowing I wanted to grab some other buffet options.
It was so good that I ate it all waiting for something else and went back to get more. But my pictures weren't pretty, so shhh! It's spicy but delicious.
I also left off the two pizza options. Both Bella Napoli and Dino's make a great pizza.
Bella Napoli has a broader menu, but pizza just can't compete with everything else offered. I live in Chicago so have pizza all the time, but it's worth grabbing when you don't want a full sit down meal.
Outside the restaurants, don't forget about the Friday night beach party. Not only is it a whole lot of fun for adults and kids, but they have a huge and delicious buffet.
Don't miss the fresh caught seafood at the very end past the desserts. The mussels are to die for.
Will this always be the menu?
One caveat: you can find the current Beaches Resorts sample menu for each restaurant if you search the site. The menus don't stay the same indefinitely.
My absolutely favorite ever dish was the crab leg risotto at Schooner's. They no longer serve this, nor do they have one of my favorite breakfasts at Sky.
But the executive chef does an amazing job updating the menus and replacing items with other amazing dishes. If you find something you love, go back and have it again – you don't know if it will be there on your next Beaches trip!
The breakfast buffet at Mario's and Reflections tends to stay pretty much the same, as do the pizzas offered at Bella Napoli.
Aside from that, expect to see updates from time to time – and enjoy exploring the new items!
13 Best Beaches Resorts Food Options
Tangerine Beignets at Sky
Granted, these aren't New Orleans beignets. They are a bit heavier than traditional beignets, but they are oh so good. The view isn't half bad either.
I love the mild tangerine flavor that gives the beignets just a little extra vibrance to them, and the caramel swoosh on the side is a perfect dipping sauce.
The three beignets are perfect to share – and order another more protein filled item to round out the meal.
Caprese Salad at Schooner's
While Schooner's is typically known as a seafood restaurant (and the crab leg risotto was my favorite dish at the resort), they have other options, too. It's hard to mess up a caprese salad, and I love the twist Beaches Resorts puts on this one.
The tomato is lightly roasted, giving it a sweeter flavor that also cuts more easily than a simple raw tomato. The mozzarella is fresh, and there's plenty of basil to go around. If you love a simple classic, make sure to order this.
Surf and Turf at Sapodilla's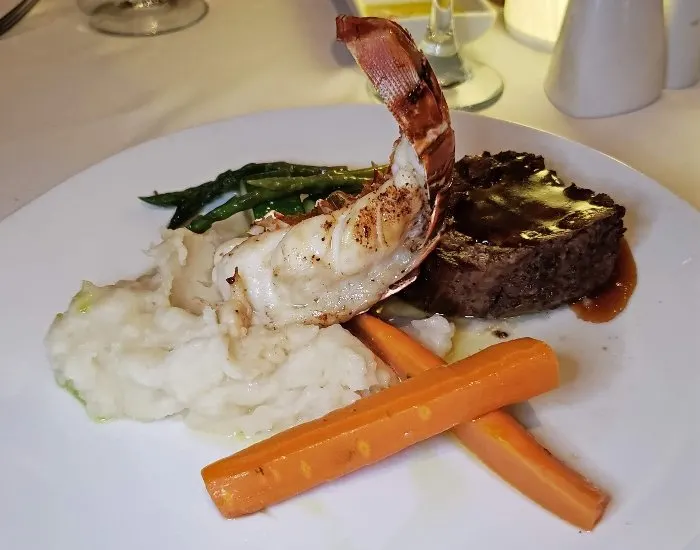 Before you visit Sapodilla's, know that this is the only Beaches Resort restaurant that only seats those ages 16 and up. While Le Petit Chateau has an age limit of 12 and up, Sapodilla's is unique, and they hold to it.
The plus side? This fantastic food is served in a small dining room with a very different atmosphere from other restaurants. If you have kids, they will turn you away.
The food is fantastic, however. I haven't had anything here I didn't enjoy, but the surf and turf? How can you not love fresh caught lobster and a filet?
This isn't always on the menu – and it isn't listed as an option, so ask your server if they have it!
Muesli at Neptune's
I grew up in Europe where we ate muesli all the time. I love seeing it more and more often on menus, and with plenty of European visitors to Beaches Resorts, it makes sense that they have these options.
This muesli has a Greek flair to it, which makes sense since you enjoy it at Neptune's. The abundant fresh fruit has a bit of yogurt mixed into it, along with some dried fruit.
They top this with a delicious crunchy granola and then a whipped yogurt with a drizzle of honey. It's heavenly.
Tuna Tartare at Schooner's
One fun thing about Beaches Resorts is that they make smaller portions. Do you know what that means? You can enjoy more than one appetizer and not feel absolutely stuffed every time.
This tuna tartare shines amongst the seafood at Schooner's. It's light and fresh and has a gentle citrus tone to it. The yellow dots in front are mango, which sound a little unusual.
Ignore your initial though and grab a bit on your fork to enjoy with the tuna tartare. It's a perfect complement.
Salmon Benedict at Sky
I love a good Salmon benedict, but they're often heavy for me. This version uses potatoes as the base rather than an English muffin, and it works perfectly.
Generally, this comes with two eggs and a side of potatoes, but feel free to let the restaurant know if you don't want all the food so it doesn't get wasted.
Again, the view at Sky can't be beat both at dinner for sunset and breakfast. They cook the egg perfectly to have a delicious yolk spill out and mix the flavors of the salty salmon with the light hollandaise and roasted potatoes.
Hummus at Neptunes
Lunchtime at Neptunes is as delicious as breakfast. In fact, our group ate there… more than once. The best appetizer hands down was the hummus.
The gently roasted pita creates a chip you can chew and works perfectly with the hummus that they knock out of the park. How good is this? We ordered one for the table and then promptly each ordered our own.
Sushi at Soy
Do I have to specify one thing at Soy? Their sushi tastes amazing. It's fresh and flavorful and done very well.
The sashimi offers yellowtail, tuna, and salmon. Each sashimi order comes with three pieces. Feel free to order plenty.
The rolls encompass both traditional and some fun rolls. The volcano roll pictured above is a fun roll that's easily accessible to those who enjoy sushi.
Muesli at Barefoot by the Sea

Barefoot by the Sea offers both traditional and Caribbean breakfasts. One friend's absolute favorite is the plantain porridge, and she ordered it almost every day.
I love their muesli, which is a different style from the one at Neptunes shown above. This has milk mixed into the muesli and is topped with fresh fruit.
It resembles overnight oats to some degree, but it's way better with a mild sweetness that isn't too much for breakfast.
Chicken Souvlaki at Neptunes

I adore Greek food, and Neptunes does it well. I prefer their lunch menu to their dinner menu, and the chicken souvlaki is easily my favorite.
The chicken has a perfect marinade that gives it amazing flavor and keeps the chicken moist. The tzatziki sauce complements it well.
The couscous salad makes an ideal side dish to complete your meal. It's lightly sweet without any one flavor overpowering the salad.
Anything at Curls and Swirls

Technically a milkshake isn't a meal. But it's easy to miss Curls and Swirls, and you don't want to skip this. You find this in the waterpark near the lazy river.
While Bobby Dee's offers ice cream and sundae's and milkshakes almost 24 hours a day (they're closed 6-11am), you want to visit Curls and Swirls for your ice cream needs.
The ice cream food truck offers both fun frozen yogurt flavors and milkshakes. While you can get a more traditional milkshake, you want to order one of their specialty shakes.
The key lime pie? Make that your first stop. The raspberry chocolate truffle? Oh heck yeah. You pretty much can't go wrong, although I will say that the chocolate cookie dough fudge was too much chocolate for me personally, but chocoholics rejoice!
The Andrew – at the Italian Village Pool

Again, I recognize that a cocktail is not a meal, but make sure to get an Andrew.
Every bartender at the resort has a specialty cocktail, and they tend to be really good. Plus, every restaurant has a signature cocktail only available at that restaurant – remember to ask about them!
Andrew usually works at the pool bar in the Italian village. No matter how we begged, he wouldn't share his recipe (but I haven't given up).
This cocktail has lemon and apricot and cranberry and who knows what else. It isn't too sweet, and it's incredibly refreshing with the citrus notes being the strongest. Find him, and tell him I sent you!
Did I tempt you? Book your Beaches Resorts vacation stat!
Which of these 13 best Beaches Resorts Food Items have you tried?
Don't forget to check out the full list of all the Beaches Resorts breakfast options!