This recipe for lasagna roll ups is an easy weeknight meal, and you can dress it up for more sophisticated palates or leave it simple for a rustic meal. This contains an affiliate link that earns me a commission of you buy but costs you nothing. Thanks for supporting me!

My background is Irish, German, Scottish, but you'd never know it by the way I eat. There are so many different pasta dishes and Italian favorites I make on the regular, like these lasagna roll ups, that I sometimes wonder if my ancestry is slightly off. The cheesy goodness, the bite of the tomato, the chew of the pasta… it's my jam!
Lasagna is one of my all time favorite foods, and every year I make a bechamel lasagne (yep, it goes old school with lasagne, not lasagna) for Christmas Eve. It is amazing, but it's so rich I can't have more than a single slice. It's so heavy I can hardly lift the (cast iron) casserole dish. Oh my word, it's tasty. It's also a once or twice a year dish because it makes so many leftovers.
I want the taste of lasagna more often that that, which is why I adore the concept of lasagna roll ups. Not only do they cook in way less time than traditional lasagna, but they come with built in portion control. One noodle paired with a salad, and I'm in heaven. Best of all, you can leave it simple the way I share in the recipe or dress up the filling. Add sun-dried tomato or sauteed spinach. Add some ground beef or – better yet – pancetta. You can even add mushrooms (as long as you aren't feeding it to me).
[bctt tweet="Need a fun dinner idea? Check out these delicious 3 cheese lasagna roll ups. You can even prep them ahead!" username="honestandtruly"]
However you like them, just make them. Trust me. These lasagna roll ups are delicious. Best of all? You can make these in advance and freeze them, then thaw and bake at your convenience.
How to Make Lasagna Roll Ups
Preheat oven to 400 degrees, boil water in a tea kettle. Place noodles into a 7×11 or larger baking dish. Once the water boils, pour it over the noodles and let them sit for six to eight minutes.
While the noodles are softening, mix together your filling ingredients. Reserve a little mozzarella and Parmesan for topping the roll ups later. Add the ricotta cheese, mozzarella cheese, Parmesan cheese, egg, parsley, basil, salt, and pepper to a bowl and stir until combined. If you are adding any extra ingredients, add them and stir, too.
Once the noodles are pliable, it's time to start assembling the lasagna roll ups.
I have the perfect dish to bake these. Technically, it's an au gratin dish, but it fits the lasagna roll ups perfectly. Spread a thin layer of sauce in the bottom of your dish to ensure the noodles don't stick. I use my 15 minute homemade tomato sauce, but use your favorite jarred sauce if needed.
Add a quarter of the filling to the first noodle, spreading it all along until a half inch or so before the edge. Top with a line of sauce.
Carefully roll up the noodle, ensuring it is solid without being so tight that the filling squeezes out.
As you roll up each noodle, place it in the baking dish with the seam down to hold it in place. Repeat for all four noodles (or however many you choose to make).
Top the lasagna roll ups with the remaining mozzarella and Parmesan cheeses. Because cheesy, gooey goodness.
Cover with foil and bake at 400 degrees for 20 minutes. Remove the foil and bake another 10-15 minutes, until the cheese is bubbly and golden. Remove from the oven and let stand for 10 minutes to firm up before serving.
Serve topped with additional Parmesan cheese.
Have you ever tried lasagna roll ups before? What would you add to the filling?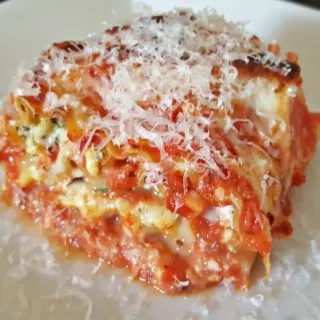 3 Cheese Lasagna Roll Ups
These delicious lasagna roll ups are perfect portion control. They are a great weeknight meal, and you can dress them up with your favorite ingredients - sundried tomatoes, pancetta, spinach, and more. Make them ahead of them and freeze then thaw and bake later.
Ingredients
4 lasagna noodles
4 oz ricotta cheese
3/4 c fresh grated Parmesan, divided
1/2 c mozzarella cheese, divided
1 egg
3/4 t dried basil
1 t dried parsley
1/4 t pepper
pinch salt
1 c marinara sauce
Instructions
Preheat oven to 400 degrees and boil water in a teapot.

Place noodles in a casserole dish and pour boiling water over them until covered. Let sit for 6-8 minutes until noodles are bendy.

While noodles are softening, mix together the filling ingredients. Save some mozzarella and Parmesan cheeses to top the noodles later. Add ricotta, Parmesan, mozzarella, egg, basil, parsley, basil, pepper, and salt to a bowl and stir until combined.

Add a thin layer of sauce to the bottom of a baking dish (an au gratin dish works perfectly).

Place noodle on dry flat surface. Spread a quarter of the filling over the noodle and spread to within a half inch of one edge. Top with a thin line of sauce. Carefully roll up the noodle and place seam side down in the baking dish. Repeat for each noodle.

Cover with foil and bake at 400 degrees for 20 minutes. Remove the foil and bake another 10-15 minutes, until cheese is bubbly and golden.

Let sit for 10 minutes to firm up, then top with a little more Parmesan and serve.
Recommended Products
As an Amazon Associate and member of other affiliate programs, I earn a commission from qualifying purchases.
Nutrition Information:
Yield:

4
Serving Size:

1 roll
Amount Per Serving:
Calories:

294
Total Fat:

13g
Saturated Fat:

6g
Trans Fat:

0g
Unsaturated Fat:

5g
Cholesterol:

82mg
Sodium:

761mg
Carbohydrates:

27g
Fiber:

2g
Sugar:

4g
Protein:

17g
This site uses an outside source to provide nutrition. If you need exact details, please calculate yourself.