I could eat baked sweet potato fries morning, noon, and night. At home, we bake them all the time as a side to any dinner or just an after school snack. Some links in this post earn me a commission if you purchase through them.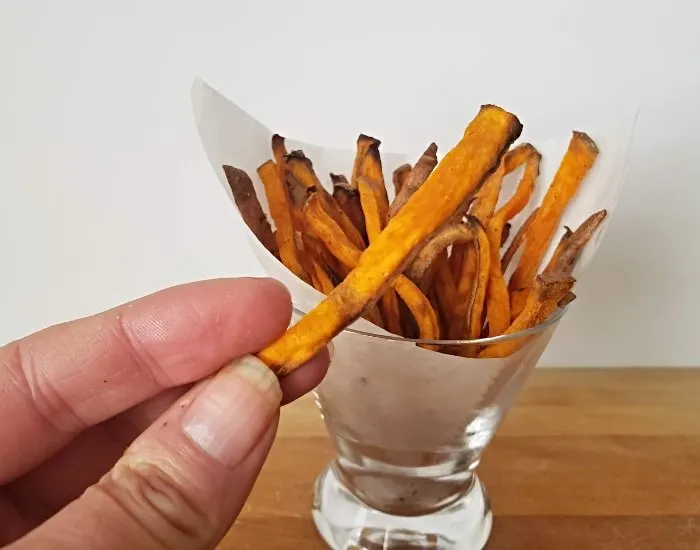 At Thanksgiving, someone always makes and brings a sweet potato casserole, but I never touch it. It's too sweet for my tastes, but I make up for it with all the sweet potato fries I devour.
My baked sweet potato fries have way fewer ingredients, leaving the wholesome vitamins and minerals from the sweet potatoes. That's how I justify eating so many, right?
My son loves these absolutely baked to a crisp and almost blackened. I like them cooked so they're soft inside and crisp outside.
The trick? Don't overload your pan. If you have too many, they steam and stay soft as they bake instead of crisping on the exterior. Make sure you have a single layer and space between them.
Along those lines, I found a really cool pan that has a raised rack to hold my baked sweet potato fries that lets me bake them without flipping them. I use this now for everything from homemade chicken fingers to bacon wrapped dates to bacon roasted Brussels sprouts and more.
Because my son likes his crispier, we tend to cut our baked sweet potato fries fairly thin for him. Cut yours a little wider and cook a little longer, or make wedges to prep them even faster. Make sure to adjust your bake time to account for this.
I can eat an entire potato – or two – myself, but generally a potato serves two people as a side. If you need more, bake in rotation with multiple baking trays. I put one on a top shelf and another on a lower shelf and swap half way through baking.
How to Make Baked Sweet Potato Fries
Preheat your oven to 425 degrees.
Wash your sweet potato. Slice off a thin edge, and cut that into matchsticks.
Turn your potato to rest on the flat side, and repeat. For safety, always cut with a flat side on your cutting board.
As you get to the end, turn it so that the long cut edge lays on the board for stability. This makes it so much easier to cut and keep your slices the same size, which is critical for even baking.
Place potato slices into a bowl and drizzle with olive oil, salt, and pepper. Toss gently to coat so that each slice shines with just a touch of olive oil. If you use too much, they'll be soggy.
Transfer potato slices to your baking sheet and ensure they are in an even, not touching layer. Bake for a total 30-35 minutes.
Halfway through, flip them so to ensure even baking and keep one side from getting soggy. If you use a baking sheet with a rack, you can skip this step, as the air circulates around the baked sweet potato fries.
Once you see them crisped, remove from the oven and serve immediately.
My son loves his with simple salt and pepper. I usually add paprika, and sometimes garlic powder or cinnamon. Go with your favorite to flavor them as much as you prefer!
Have you ever made baked sweet potato fries?
Sweet Potato Fries
These incredibly simple baked sweet potato fries taste amazing and are perfect to accompany just about any meal - or enjoy them as a snack on their own.
Ingredients
1 sweet potato
2 teaspoons olive oil
1/4 teaspoon pepper
1/4 teaspoon salt
Instructions
Preheat oven to 425 degrees.
Wash sweet potato. Slice off a thin edge, and cut into matchsticks. Rest potato on flat side, and repeat.
Place potato slices into bowl and drizzle with olive oil, salt, and pepper. Toss to coat.
Transfer potato slices to baking sheet and in a single layer. Bake for 30-35 minutes, flipping each potato 20 minutes into baking.
Once crispy on the outside, remove from oven and serve immediately.
Notes
Bump up the flavor by adding a half teaspoon paprika, a quarter teaspoon garlic powder, or a quarter teaspoon cinnamon to your potatoes before you bake them.
This recipe easily scales up to serve more. Bake on additional baking sheets, as it's critical to have just a single layer of potatoes or they'll get soggy.
Recommended Products
As an Amazon Associate and member of other affiliate programs, I earn a commission from qualifying purchases.
Nutrition Information:
Yield:

2
Serving Size:

1
Amount Per Serving:
Calories:

98
Total Fat:

5g
Saturated Fat:

1g
Trans Fat:

0g
Unsaturated Fat:

4g
Cholesterol:

0mg
Sodium:

311mg
Carbohydrates:

14g
Fiber:

2g
Sugar:

4g
Protein:

1g
This site uses an outside source to calculate nutrition. If you need exact nutritional details, please calculate yourself.
I am a participant in the Amazon Services LLC Associates Program, an affiliate advertising program designed to provide a means for sites to earn advertising fees by advertising and linking to Amazon.com.