These grilled chicken recipes are absolutely delicious to give you some fun new ideas for your dinner. Some links in this post are affiliate links that earn me a commission if you purchase through them.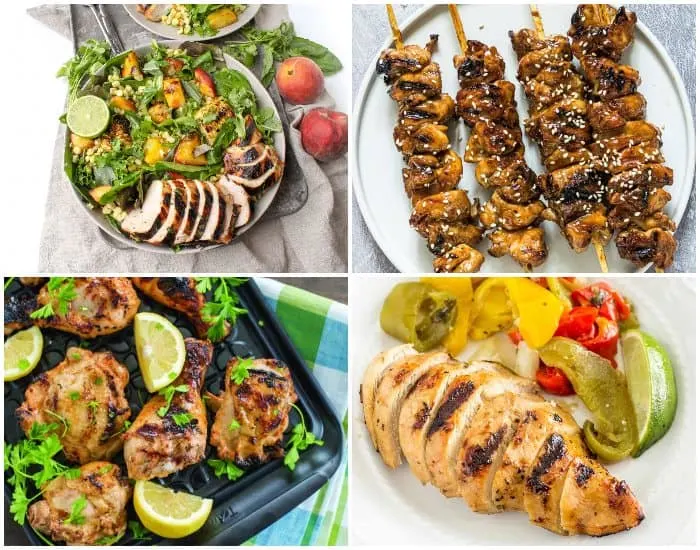 Summer is the time of grilling, but I get tired of the same meal night after night. We eat a lot of chicken, and there are so many fun and delicious grilled chicken recipes.
Don't get stuck with the same dinner night after night. You can find fantastic recipes in this list for all types of chicken from whole chicken to drumsticks and everything in between.
Whether you love a good marinade or want a quick dry rub that gets that chicken from the fridge to your belly faster, you can find it. There are more than 80 recipes that use all types of cooking.
This includes a ton of recipes that are gluten free, and almost all of them are dairy free, too. This makes it even easier for special diets or if you want to feed a crowd for a pot luck.
Chicken Grilling Tips
First, always make sure you cook your chicken to 165 degrees for safety. While many recipes say, "cook until the juices run clear," it's worth the investment in a meat thermometer to be sure.
I love my wireless meat thermometer, only partly because I can walk away and work on another part of the meal with the freedom to not worry that I'll overcook my chicken. And yes, I do need the beeping alert to remind me sometimes.
When you have recipes that call for marinating your chicken, give it at least three to four hours. If you don't marinate it for long enough, you simply don't get the flavor you want.
However, note that acid based marinades like lemon or lime juice will start to break down your chicken, so be aware to not overdo it. Those are the marinades that don't work well overnight.
You chicken cooks best when it's an even thickness. Especially when you're cooking with chicken breasts, you may benefit from pounding them.
It's easy to do. Simply place your chicken between two pieces of plastic wrap or wax paper or even inside a zip top bag. The key is to use enough force to flatten it evenly without shredding the chicken completely.
If you have a meat mallet, use that, as it works efficiently. It's one of the tools I love because it works well for a variety of purposes from tenderizing more tough cuts of meat to pounding meat to an even thickness to breaking up frozen fruit or ice and more.
However, if you don't own a meat mallet, you can use a soup can or rolling pin. They aren't weighted quite the same, so it will take a little longer, but they do work.
And when you're grilling, make sure you don't have the heat too high. While many cuts of beef tend to benefit from searing and high temps, chicken simply dries out.
Best Grilled Chicken Recipes
Any time you can grill your food, you're winning. There's something about a meal fresh off a barbecue grill that just makes everything better. Don't get stuck in a rut though. Instead, try one of these amazing grilled chicken recipes. Many are also paleo, gluten free, or dairy free, which makes them perfect for get togethers with other families, too.
What are your favorite grilled chicken recipes?
I am a participant in the Amazon Services LLC Associates Program, an affiliate advertising program designed to provide a means for sites to earn advertising fees by advertising and linking to Amazon.com.