This bourbon chocolate mousse is rich and decadent, but still pretty simple to make. Some links in this article are affiliate links that may earn me a commission if you purchase through them.
Mousse is one of those dessert recipes that I don't think to make until I do. And then I ask myself why I don't make it more often.
This chocolate mousse uses basic ingredients like chocolate, eggs, and heavy whipping cream. Generally, the cream is all I need to purchase to make it.
The bourbon helps cut some of the richness of the mousse, and it just adds that extra oomph that makes this a standout dessert. Every time I make it, people ask for the recipe.
One note: This recipe contains alcohol. It is not intended for anyone under 21 (or your local legal drinking age). The alcohol remains in the dessert, so be mindful of where you serve it.
That said, this is a fantastic adult dessert, whether by itself or topped with a dollop of whipped cream. It needs nothing else.
What kind of chocolate should I use?
When you make chocolate desserts, unless you're making chocolate chip cookies, you want to use quality chocolate. Find a good quality bar or use callets.
Chocolate chips can work in a pinch, but they have many more added ingredients to help them last, to keep their shape, and more. And quite honestly, most chocolate chips simply don't taste as good.
To get the best texture and shape, use a quality dark chocolate and chop it carefully with a chef's knife.
What kind of bourbon should I use?
Just like cooking with wine, you want to have a bourbon that you enjoy drinking, but there's no need to purchase the fanciest, most expensive bourbon.
This recipe uses a quarter cup of bourbon. While bourbon lasts longer than wine once you open it, I'm betting you're more likely to drink it than use an entire bottle to make alcoholic desserts.
Buy something that tastes good to you, as you'll taste it in your dessert.
Do I need a double boiler?
As you heat the chocolate and butter, you want to ensure you do it gently. A double boiler helps melt chocolate without heating it too much and scorching it.
However, you can absolutely make this adult dessert without a double boiler. I use a heavy enameled cast iron pot over low heat to gently melt my chocolate and butter most – but not all – the way, and it works perfectly.
The key is to heat gently and have a thick pot that doesn't heat unevenly. Then, it's your choice.
Why won't my egg whites whip into peaks?
Egg whites can be particular. The most common problem is accidentally getting a small amount of yolk into the whites.
Any yolk at all will mean you have to start over. Save them to make an omelet if you realize they aren't working before you add the sugar.
Egg whites can't handle any fat, so make sure your bowl is completely clean. Room temperature egg whites also whip better than cold.
What cream should I use?
The only cream that whips the way you need it to is heavy whipping cream. Half and half or whole milk simply don't whip, so don't try to substitute them.
That said there are multiple "whipping creams" that you find at the store.
Heavy whipping cream works far better than light whipping cream. Light whipping cream has less fat, and it tends to "leak" water, which you don't want for your bourbon chocolate mousse. Trust me.
On the same note, try to find heavy whipping cream labeled "pasteurized" versus "ultra pasteurized." The extra pasteurization means more added ingredients for stabilization and doesn't have as pleasant a taste.
How should I serve bourbon chocolate mousse?
Depending on the occasion, I have different preferences, and you're free to choose what works for you.
Often, I simply place the chocolate mousse into a large serving bowl and let guests help themselves – especially if it's at a potluck type event where people may have already overindulged in other courses. This way, they can take as much or as little as they like.
For more formal events, I place it into small glasses as soon as I finish making it and let it set in them.
Either way, I always offer the choice to add whipped cream to the top for anyone who wishes it. When I make my own whipped cream, I add a couple tablespoons bourbon to the cream before I whip it, and wow is that good!
Either way, it needs nothing else. If you truly want to get fancy, you could add sprinkles of candied maple bacon to it or chocolate shavings.
I also occasionally make and bake a pie crust, then fold in the chocolate mousse once the pie crust cools and smooth it with a rubber spatula. This tastes fantastic.
How do I store mousse?
Always keep it in the fridge unless you're serving it right then. Unlike pudding, it doesn't develop a thick skin on top, but you still want to cover it with plastic wrap.
That said, while you press the plastic wrap into the pudding, don't have it touch your chocolate mousse.
This lasts for three to four days in your fridge, so you can make it ahead of time. Or enjoy leftovers.
Do I need gelatin to make mousse?
You absolutely do not need gelatin. Gelatin is a great stabilizer when you need it, but if you make this sweet chocolate dessert right, it absolutely does not need it.
What does stabilize it then? Both the whipped egg whites and the whipped cream that you gently fold into the chocolate and bourbon mixture provide sufficient stabilization.
Why won't my egg whites mix in all the way?
Egg whites can be tricky.
If you beat them too much, they become dry, and they don't want to incorporate well into the chocolate. Then you have to almost have to lose the airiness of the dessert by more forcefully mixing to get rid of the white bits.
Instead, you want to mix the egg whites until they form stiff peaks and then immediately stop. If you lift your beaters and see that your peaks droop, keep going.
However, once you whip them too much, they become dry and won't easily incorporate. This also leads to a grainy texture.
Why is my mousse grainy?
In addition to beating your egg whites too long, your mousse can feel grainy and not smooth, your chocolate can be the culprit.
First, use quality chocolate without extra ingredients that interfere with the texture when you melt it. Remember the part about not using chocolate chips? This plays into it.
Second, you need to be careful when you melt your chocolate. This is why I suggest you remove the chocolate from the heat before it fully melts.
If you heat the chocolate too hot, as it cools, the chocolate loses its tempering and can form little grains. To avoid this, always heat on a low temperature – never use the microwave! – and remove your chocolate mixture from the heat as soon as you see it's mostly melted.
The residual heat will melt the remaining chocolate. Simply stir it for another 30 seconds to a minute off the heat, and it melts beautifully without ever becoming too hot.
What other great no bake desserts should I try?
No bake desserts are some of my favorites in the summer because I don't have to turn on the oven. All year round, many take less time to create, too.
Either way, these delicious ideas are fun ones for you to try next:
How to Make Bourbon Chocolate Mousse
Chop your chocolate. I use a chef's knife to carefully cut bits of time from the edge, and more flake off. The sizes don't have to be perfect. Chopped chocolate melts quicker and more evenly than a bar, which helps avoid scorching or overheating your chocolate.
Of course, if you use callets, simply add them to your pot.
Separate your eggs. I do this while the eggs are cold, then let the egg whites sit while the chocolate melts to warm up a bit.
Make sure you have a "separating bowl" where the egg white goes to ensure it's clean before you add it to the larger bowl of already separated egg whites. That way, if you have an oops, you don't have to start completely over.
In a heavy saucepan, add your chocolate and the butter. I also cut the butter into smaller pieces to help it melt more quickly and to more evenly incorporate with the chocolate.
Over low heat, stir with a rubber spatula or whisk until most of the chocolate melts. As soon as you have just a bit remaining, remove the pot from the heat and stir the mixture until it's smooth.
Whisk in the egg yolks one at a time. Since you never let your chocolate get too hot, you don't risk your eggs cooking at this point.
Add the quarter cup bourbon, and stir to incorporate. This takes just a few seconds if you whisk thoroughly.
In a separate bowl, beat the now room temperature egg whites until they're foamy. Slowly add granulated sugar as you continue whipping, almost like you're drizzling the sugar in.
Whip egg whites until they are shiny and form peaks. You don't want them to droop, but make sure you stop as soon as the stiff peaks form and they stand up.
Add a third of your whipped egg whites to the chocolate mixture, and fold in using a rubber spatula. You need to sacrifice some of the airiness of these eggs to loosing the chocolate bourbon mixture, but you still want to be somewhat gentle.
Once they're incorporated, add remaining the egg whites and gently fold until just a few white streaks remain. You want to retain as much air as possible from this point forward.
Pour your heavy cream into an empty medium bowl. I often put my metal bowl into the fridge, as cold cream and cold bowls make for better whipped cream.
Start on low speed and steadily increase as the cream starts to incorporate air. Beat it until soft peaks form, then give it another 30 seconds.
Gently fold the whipped cream into your chocolate mixture.
When no white streaks remain, gently scoop it into glasses or ramekins. Chill thoroughly in the fridge for two to three hours, covered tightly in plastic wrap.
Remove just before serving, and top with whipped cream or chocolate shavings if you like.
Save this bourbon chocolate mousse recipe to make again!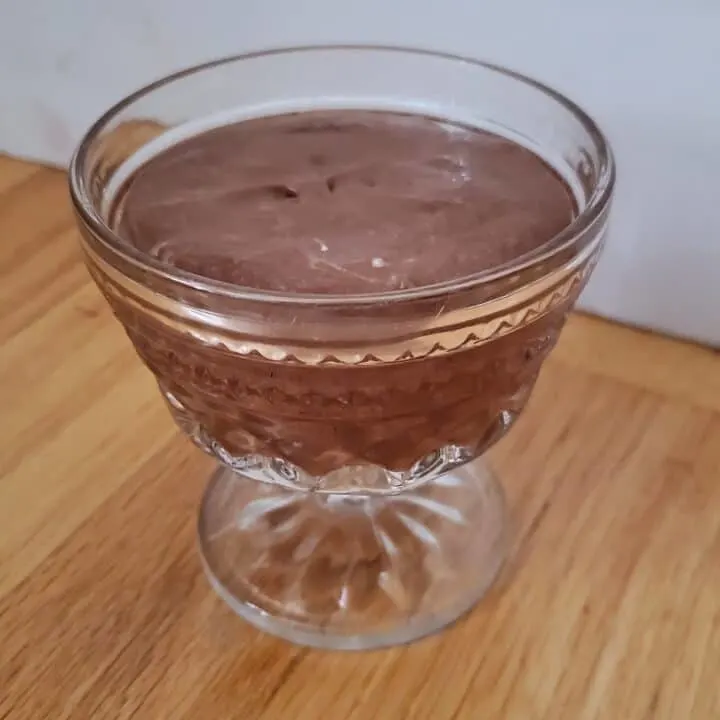 Bourbon Chocolate Mousse
Total Time:
2 hours
21 minutes
Bourbon chocolate mousse has the perfect bite to cut the sweetness of chocolate mousse. This decadent no bake dessert is fairly simple to make, but you don't need to tell your friends and family that!
Ingredients
8 ounces dark chocolate
4 tablespoon butter
5 eggs, separated
1/4 cup bourbon
6 tablespoons sugar
2/3 cup heavy whipping cream
Instructions
Chop chocolate.
In a heavy saucepan, add chocolate and butter. Over low heat, stir until most chocolate melts. Remove from heat and stir until smooth.
Whisk in egg yolks one at a time. Then add bourbon and stir to incorporate.
In a separate bowl, beat egg whites until foamy. Slowly add sugar as you continue whipping. Beat until whites are shiny and form soft peaks.
Add a third of whipped egg whites to the chocolate mixture and fold in using a spatula. Once incorporated, add remaining egg whites and gently fold until just a few white streaks remain.
Pour cream into empty bowl. Start on low speed and steadily increase. Beat until medium peaks form.
Gently fold whipped cream into chocolate mixture.
When no white streaks remain, gently scoop into glasses or ramekins. Chill thoroughly for 2 or more hours.
Notes
This tastes great or with whipped cream to top it. Feel free to use whipped cream from a can or make your own (my preference). Add in a tablespoon or two of bourbon when you whip your cream for a perfect complement.
For more tips and hints, make sure to check out the details in the full article.
Recommended Products
As an Amazon Associate and member of other affiliate programs, I earn a commission from qualifying purchases.
Nutrition Information:
Yield:

12
Serving Size:

1 dish
Amount Per Serving:
Calories:

245
Total Fat:

17g
Saturated Fat:

10g
Trans Fat:

0g
Unsaturated Fat:

6g
Cholesterol:

104mg
Sodium:

68mg
Carbohydrates:

18g
Fiber:

1g
Sugar:

16g
Protein:

4g
This site uses an outside source to provide nutrition as a courtesy. If you need exact values, please calculate yourself.
I am a participant in the Amazon Services LLC Associates Program, an affiliate advertising program designed to provide a means for sites to earn advertising fees by advertising and linking to Amazon.com.