This simple carrot ginger soup is just the way to warm up on a winter day. Some links in this post are affiliate links that earn me a commission if you purchase through them.
I am all about the soups in winter, whether they're Potato Corn Chowder or Blender Cheddar Soup or Roasted Asparagus Soup or something entirely different.
One of the things I really love about soups is that it is so easy to get vegetables in the meal, whether for me or for the wee ones. And who doesn't need more veggies, especially this time of year?
The wee ones are huge fans of carrots, and we eat them just about daily. I figured making a carrot soup would go over well, but I wanted it to have a little more depth of flavor than just… carrot.
So I made a carrot ginger soup that was delicious. The wee ones weren't too sure of the dill, but they enjoyed the soup. Me? I hid the leftovers so no one else got any.
This recipe is creamy and delicious with a little bite from the ginger that gets tamed by the half and half.
This carrot ginger soup recipe makes four servings, or six if you make it for an appetizer. That said, it's simple to scale it up and double or triple the batch to feed a crowd.
Can I make carrot ginger soup dairy free?
It's naturally gluten free, and it's simple to make just a couple changes to make this dairy free, as well. In fact, most of the time I make this dairy free because I love the flavor of coconut milk.
Simply swap out the butter with a low flavor oil like canola. You can use olive oil, but there's no need to that expensive an oil if you don't want to.
Instead of the half and half, use coconut milk – the canned kind not the drinking replacement. It adds a great flavor that I actually prefer to half and half much of the time.
In both cases, go with a one to one replacement.
Is carrot ginger soup vegan?
While I generally make this soup with chicken stock – in addition to the dairy we eliminated above – you can easily make this a vegan soup.
Substitute vegetable stock and you have a delicious vegan meal, too. I've done that with great success before.
What is the best way to grate the carrots?
If you have a food processor, go ahead and use it. It's fastest.
However, when mine is on the fritz, I use my cheese grater. A box grater would work just as well.
Make sure you peel your carrots first, then have at it. If you don't have a way to grate them, simply cut them into thin coins.
The goal is to have them cook easily. You want them to start to caramelize just a little when you saute them and ensure they cook through later.
How to Make Carrot Ginger Soup
In a soup pot, melt the butter or add the oil over medium heat. Add carrots, onion, ginger, and cinnamon.
Let the veggies sweat a little, stirring periodically with a flat wooden spoon. You want the carrots to release some of their color and the onions to start to get translucent.
Add the potatoes and then the stock. (Do it in this order so the potatoes don't splash you – see, I'm always thinking!)
The stock should just cover the veggies, and not much more. Bring this to a boil, then turn it down to a simmer. Let it simmer uncovered for 10-15 minutes, until the potatoes are soft but not mushy.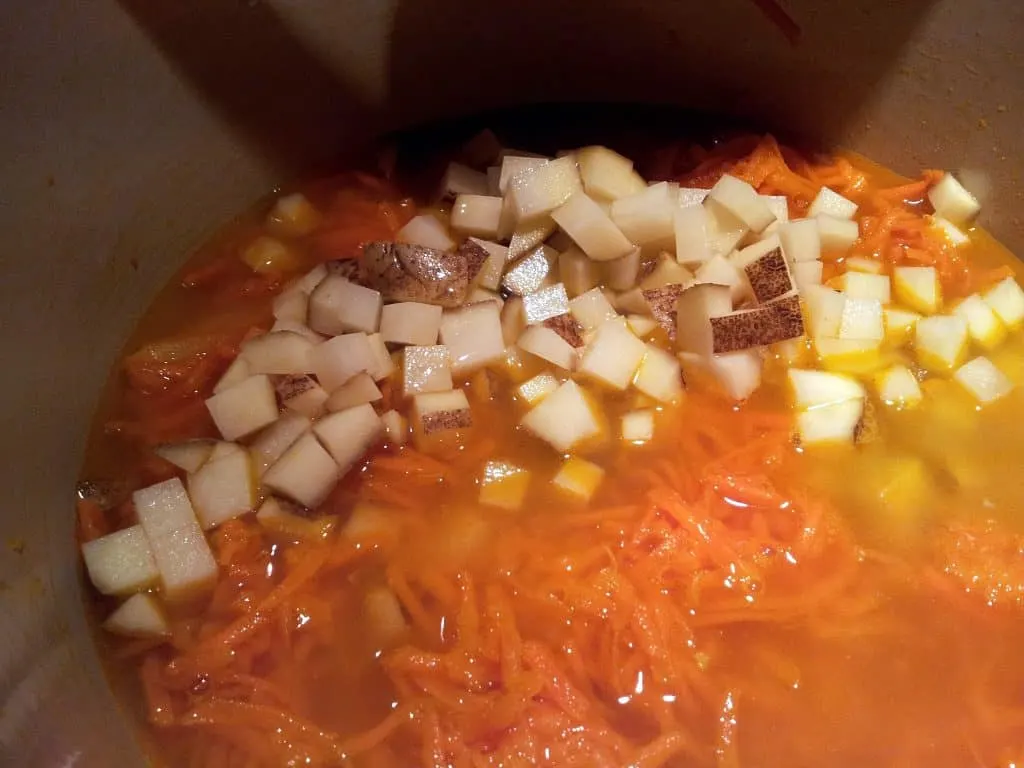 Now it's time to puree. If you have an immersion blender, use it to puree the soup until it is smooth and beautiful. If you don't, go buy one. Just kidding. Sorta.
Use your regular blender. However, blend it in batches. You don't ever want to fill your blender more than 1/3 full of hot liquid. Use a pot holder to hold the lid down.
Steam and pressure will build up as you blend hot liquids, and you don't want it spraying out all over you.
Pour the soup back into the pot, if necessary. Stir in the half and half (or coconut milk). Add your dill and the salt and pepper to taste.
It will be deliciously thick and rich and just all around awesome. Serve immediately. This will keep in a sealed container in the fridge for two to three days – if it lasts that long.
Have you ever tried a carrot ginger soup?
Carrot Ginger Soup
Enjoy this delicious soup you don't often see. It has a ton of flavor and a little bit of bite that's tamed by the cream. Naturally gluten free, it's easy to adapt to dairy free, as well.
Ingredients
2 T butter
3 c carrots, diced or grated
3 cloves garlic, smashed
1/2 onion, chopped
1/2 T ginger, fresh grated
1 t cinnamon
1/2 baking potato, cubed
2 c vegetable or chicken broth
1/4 c dill, chopped
1/3 c half and half
Salt and pepper, to taste
Instructions
In a soup pot, melt butter over medium heat. Add carrots, onion, ginger, and cinnamon. Let veggies sweat 4-5 minutes, stirring periodically.
Add potatoes and stock. The stock should just cover the veggies.
Bring to a boil, then turn down to a simmer. Let simmer uncovered for 10-15 minutes, until potatoes soften.
Puree soup. Stir in half and half, then add dill, salt, and pepper.
Serve immediately. This will keep sealed in the fridge for 2-3 days.
Notes
This is an easy dish to make dairy free if you have allergies in your house. It's naturally gluten free, so sub out the butter for canola oil or another oil. In place of the half and half, coconut milk (the canned kind) adds a great flavor, too. I'll often make it this way whether or not I'm cooking for someone with an allergy!
Recommended Products
As an Amazon Associate and member of other affiliate programs, I earn a commission from qualifying purchases.
Nutrition Information:
Yield:

4
Amount Per Serving:
Calories:

187
Total Fat:

9.8g
Cholesterol:

26mg
Sodium:

531mg
Carbohydrates:

20.7g
Fiber:

3.7g
Sugar:

7.5g
Protein:

5.4g
I am a participant in the Amazon Services LLC Associates Program, an affiliate advertising program designed to provide a means for sites to earn advertising fees by advertising and linking to Amazon.com.