My local Chick-fil-A again invited me to try out their new menu item, and I have to say, I'm definitely a fan of the Chick-fil-A Southwest Salad. I was not compensated aside from the salad I enjoyed, and all opinions are my own.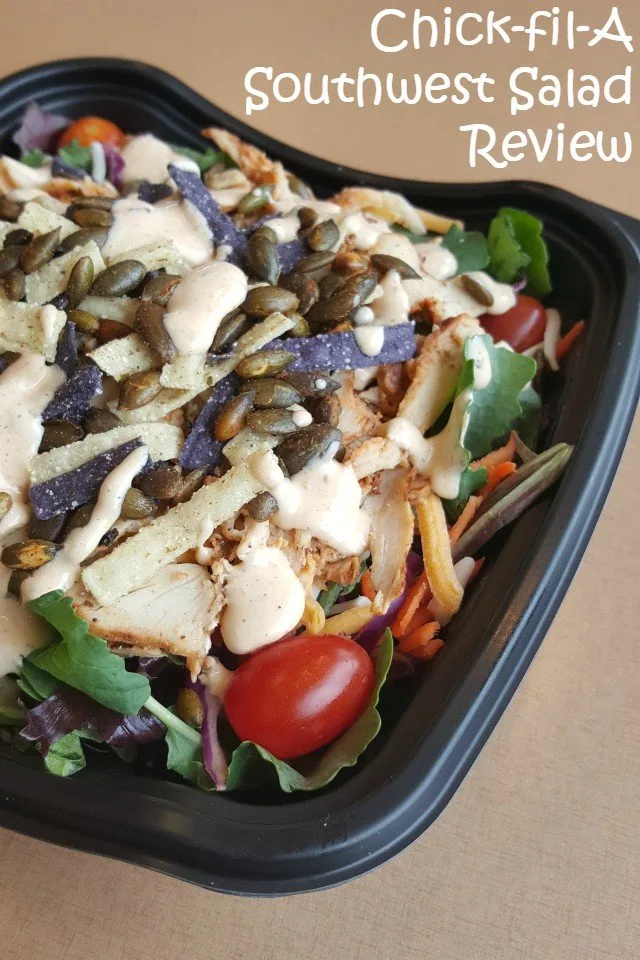 Growing up, I remember fast food restaurants pretty much had the same menus all the time. Nothing changed, nothing was new. Now? Menus are getting facelifts on a regular basis. Chick-fil-A is one of those restaurants that is continually making changes lately, and some of them I absolutely love. Honest Kids juice for the kid meals now? Not only is it organic, but it has less sugar, which is a win in my book. They are also getting rid of high fructose corn syrup and several other ingredients of questionable health benefit. These are the trends I love.
And, yes, they are changing up the flavors on their menus, too. Gone is the coleslaw. Gone is the carrot raisin salad. And now, gone is the Asian salad, replaced by the Chick-fil-A southwest salad. Why this new salad and not both? Well, Chick-fil-A test marketed the new salad with and without the Asian salad on the menu. And… the Asian salad didn't sell. People bought either one or the other – it was essentially the same market for both salads in many cases, and that made it not worthwhile keeping both salads on the menu, as the ingredients wouldn't be as fresh as they have to be with slower sales of each. I get that.
While I know there are people who are bemoaning the loss of the Asian salad from the menu, the Chick-fil-A southwest salad is pretty tasty. It is spicy, and when I say that, know it comes from someone who enjoys spice and usually nods when people say things are spicy. This? It's spicy. While the same spices are used to marinate the chicken as are used in the breading of the spicy chicken sandwich, without the buffering of the breading, it's much stronger. I like it, but I also like it with the creamy salsa dressing. The chili lime vinaigrette is too acidic on top of spice for me. Go into it knowing that it's spicy, and you're good though.
The salad is made with a fresh bed of chopped Romaine lettuce and baby greens, then topped with shredded red cabbage and carrots. The grape tomatoes are added next, followed by a blend of Monterey Jack and Cheddar cheeses and a zesty combination of roasted corn and black beans.
The chicken tops the salad, and as soon as you take a look at the Chick-fil-A southwest salad, you'll notice something different. Go ahead…take a closer look.
The chicken is no longer thick slices that you need to cut with your knife before enjoying your salad. Chick-fil-A got smart, and the chicken for the salads and wraps is now shredded (ok, they call it shredded, I say it's sliced thinly – but the end result is the same). That means you can pick up a bite of salad with your fork and… it's a bite of food and not something you have to cut. The chicken remains fresh and juicy, as it gets used so quickly that it never has a time to dry out. Smart, right?
You have the option to add tortilla strips to your salad – the same tortilla strips that come with the chicken tortilla soup. Honestly? I am just as happy without the tortilla strips on my salad. The Chick-fil-A southwest salad doesn't need that extra crunch from them – or the 170 calories added to the salad, for that matter. That said, I did enjoy adding the pepitas – pumpkin seeds – as they were a good add of texture and flavor, and I like the health benefits from them. Yes, they add fat to your salad, but this is the good kind of fat.
This is now a completely low calorie entree salad. The salad with the pepitas and tortilla strips is 420 calories, which isn't bad. The creamy salsa dressing adds another 280, however. That said, I used maybe one-third of the dressing on my salad and felt like I had plenty of flavor. If I leave off the tortilla strips (which I have done after the first salad I tried), that still keeps me at or under 400 calories for a very filling salad with great protein at 34 grams.
Do I miss the Asian salad? I do. I enjoyed it. It was a unique menu item that fit in well, but the Chick-fil-A southwest salad fills that void for me – something with a ton of flavor that is a healthy option for me to enjoy while eating at a fast food restaurant, which is something I do focus on, and I know I'm not alone.
Have you tried the Chick-fil-A southwest salad yet? What do you think of it?