This shop featuring chipotle burgers with jalapeno mayo was originally a sponsored post.
We are grilling up a storm here because it's summer, and honestly, I'll take any excuse I can get to grill. That said, I'm not just sticking plain old hamburgers and hot dogs on the grill.
I want something bursting with flavor that is a little bit different and a whole lot yummy. I have so much fun riffing on flavors I find and love in other dishes and then reusing them in new ways.
Granted, these chipotle burgers didn't start out in my head as chipotle burgers. Nope, I had fully intended to make some homemade tamales for my family to celebrate the start of school.
I even went so far as to buy chipotle peppers in adobo sauce (and some pickled jalapenos) to make the chicken tamales.
Then I got home and realized that it was hot, and the last thing I wanted to do was steam up my kitchen more by cooking tamales. I'm selfish that way.
With my daughter in the Spanish immersion program at her school, we incorporate a little Latin flair no matter what we're doing. That became my inspiration – classic American barbecue with a Latin twist in flavors.
I always season my burgers when I make them to give them added flavor and moisture, so using the chipotle peppers and adobo sauce in place of my normal seasoning was a no brainer.
The same holds true with corn. I love to make elotes, so why not take some of those same flavors and translate it to corn on the grill? Oh is my family lucky, right? (Tongue firmly in cheek)
Want to make this corn, too? You'll love my chipotle grilled corn; it's so easy to make!
The good news is that I can put the burgers together, toss them and the corn on the grill, then finish up the flavors for the corn while the burger are finishing and have all the food ready to eat at the same time.
How to Make Chipotle Burgers with Jalapeno Mayo
Making these burgers is super easy. All you need is ground beef, onion, garlic, cumin, and chipotle peppers in adobo sauce. For this, I used both the chipotle peppers and some of the adobo sauce for additional smoky heat.
Mince the chipotle peppers as finely as you can. If you want more heat, add an extra pepper. If you want a little less, only use on chipotle pepper.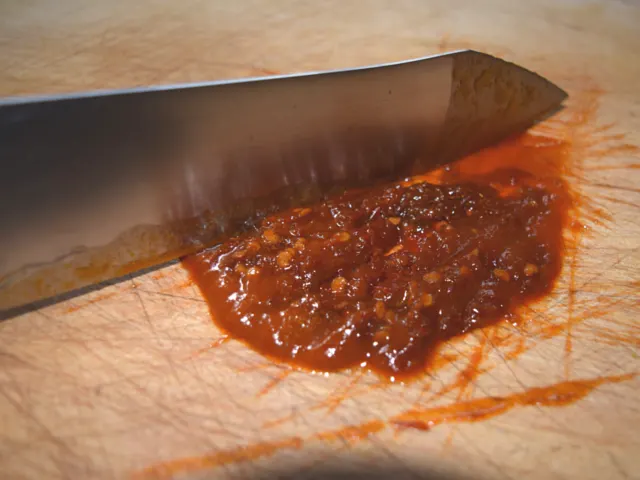 In a bowl, add your ground beef and grate half a medium size Spanish onion over the ground beef. Yes, I do in fact use the same grater for my onion as my cheese – it works great.
Mince your garlic and add that to the bowl, along with the cumin, minced chipotle peppers, and extra adobo sauce. Thoroughly mix this together with your (clean) hands to distribute the flavors throughout your meat.
Form into four hamburger patties.
Here's secret number one: To avoid having your burgers that puff up in the center and don't cook evenly, poke a hole in the center of your chipotle burgers with your finger. This allows the heat and steam to get through and your burgers will cook up flatter and fit into your bun more easily.
Cook them on your grill just as you would any other burger, and let your imagination run wild with topping ideas. For us, these were perfect with a slice of cheddar melted across the top of it after the burgers are flipped (just once!) and a little bit of jalapeno mayo.
Wait, did I forget to tell you about the jalapeno mayo? The cool, creamy mayo and flavor of the pickled jalapenos is the perfect complement to your chipotle burgers.
And it takes just thirty seconds to make this condiment that your guests will think took way more time and talent. Mince a pickled jalapeno and stir it into a half cup of your favorite mayo.
Let your friends and family top their chipotle burgers with it, and watch for the smiles.
These chipotle burgers are my favorite Latin twist on an American barbecue. What would you make for yours?
Chipotle Burgers With Jalapeno Mayo
This lightly spicy burger has a smoky heat that takes your summer burgers up a notch. Forget your plain old burgers and enjoy this juicy one instead!
Ingredients
1 lb ground beef
1/2 medium Spanish onion, grated
2 canned chipotle peppers, minced
1 T adobo sauce (from chipotle peppers)
2 cloves garlic, minced
1 t cumin
Instructions
Heat your grill to medium.
Add your ground beef to a bowl and grate the onion into the bowl.
Mince the chipotle peppers as finely as possible. Do the same to your cloves of garlic. Add them, along with the cumin and adobo sauce to the ground beef. Mix thoroughly to ensure all ingredients are distributed.
Form into four patties. Poke a hole into the center of each burger with a finger.
Place burgers onto your heated grill. Cook for three to five minutes, then flip.
Top with cheese, if desired. Cook another three to five minutes, until done to desired temperature.
Remove from grill and place on buns (toasted!). Top with jalapeno mayo or your other favorite ingredients.
Notes
To make the jalapeno mayo, dice a La Morena pickled jalapeno and stir into a half cup of your favorite mayo. Add a dollop to your chipotle burger for a perfect complement.
Recommended Products
As an Amazon Associate and member of other affiliate programs, I earn a commission from qualifying purchases.
Nutrition Information:
Yield:

4
Serving Size:

1 burger
Amount Per Serving:
Calories:

327
Total Fat:

20g
Saturated Fat:

7g
Trans Fat:

1g
Unsaturated Fat:

10g
Cholesterol:

101mg
Sodium:

137mg
Carbohydrates:

3g
Fiber:

1g
Sugar:

1g
Protein:

31g
This site uses an outside source to provide nutrition. If you need exact details, please calculate yourself.