This post sharing reasons to choose the HP Envy x360 is part of a sponsored campaign with Best Buy. All opinions remain my own.
I love my tech, and HP is one of my favorite brands. The kids' desktops are HP, my laptop is an HP, and my printer is an HP. They last, and they perform, which is just what I need from my tech.
With back to school approaching way faster than any of us can imagine, it's time to think about school supplies, which these days so often include technology, too. My son goes to high school this year, and everything is done via laptop with pretty much no books.
How does that work? You need a powerful laptop that offers the flexibility to take notes and write papers as well as create full on multimedia presentations.
Thankfully, the HP Envy x360 offers this with options for both a 13 inch and a 15 inch laptop. When I bought my new unlocked Samsung S9+ at Best Buy this week, I had a chance to play with it a little and check it out.
You'll want to do the same, but do it quickly. Best Buy offers $100 off this laptop, but only through July 28, 2018 – so hurry!
7 Reasons to Choose the HP Envy x360
360° flip-and-fold design
While I use my laptop primarily for work, I know my kids operate differently. They need a laptop to write papers, but they prefer a tablet to read textbooks and take handwritten notes. With all the presentations they do, they need the presentation mode. The HP Envy x360 also offers audience and tabletop modes, as well.
Built for Windows Ink
When my kids got to middle school and had tablets for homework, my son especially would sit and stare at the tablet when calculating math as though staring harder would make the answer appear. He lost the art of writing down the steps to solve the problem.
The HP Envy x360 solves this problem, as it's built for HP Ink. This lets you quickly jot down notes and ideas with easy, whether it's showing your work for a math problem or taking notes in an online textbook.
Powerful Engine
To me, this is one of the most important reasons to choose the HP Envy x360. It comes with 8GB of RAM. If your kids are like mine – or you're anything like me – you have way too many windows and tabs open at any given time. The 8GM of system memory handles this and keeps your computer running smoothly.
It doesn't matter if you're gaming, editing photos or video, or running multiple programs at one time, you have the power to keep running smoothly so you don't lose your flow.
Full Touch Screen
My latest laptop purchase included a touch screen, and initially I had no interest in it. The laptop that had all the other specs I wanted included it, so I reluctantly owned a laptop with a touch screen.
It's a game changer, my friends.
I use it constantly to take notes, to be more exact in my editing, and to quickly zoom in and zoom out, among other tasks.
The full HD touch screen on the HP Envy x360 has 1920×1080 resolution for fantastic color and clarity, something you need when working on those creative projects. I love that it has an energy efficient WLED backlight so my battery doesn't run down as quickly.
IPS technology provides wide viewing angles, so you never miss a thing. Couple that with the natural finger touch navigation, and you make the most of the Windows 10 experience.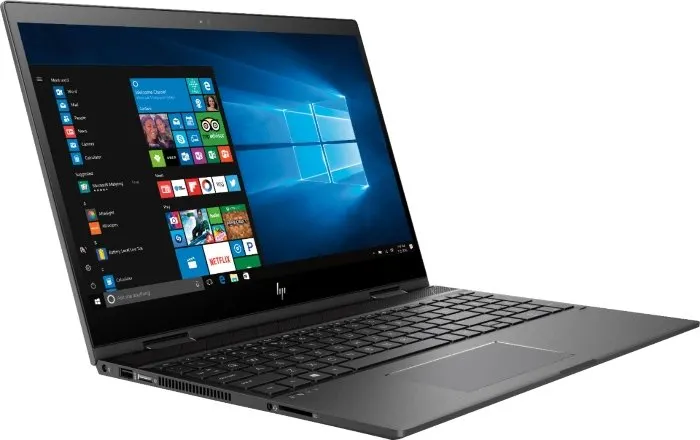 Size Options
I used to prefer a 15″ laptop, and many schools require this size. It's perfect if you focus heavily on editing photos or video, as the screen provides a larger image. The 15″ also has a full size keyboard, which helps when you type papers and more frequently.
The HP Envy x360 also comes in a 13″ option for $100 less. This laptop is lighter and sleeker, making it an easier option if you're frequently on the go. It weighs in under 3 pounds.
Regardless of which option you prefer, when you choose the HP Envy x360, there's a perfect configuration for you.
Solid State Drives
Both laptop sizes come with a solid state drive. This boots and runs faster, and I won't buy any laptop without it now.
With the 13″ model, you have the option of either a 125GB SSD or a 256GB SSD while the 15″ model only has the 256GB SSD. For the extra $120 on the 13″ model, I definitely recommend getting the larger hard drive. You'll need it.
Free Security Subscription
When you purchase the HP Envy x360 at Best Buy, you receive a free 6 month internet security subscription that you can use on up to three devices. Use it for any combination of PCs, Macs and Android, iOS and Windows tablets and mobile phones to defend against viruses, malware, phishing attacks and other online threats. Bonus? It includes identity protection and parental controls.
No matter what computer you purchase, you need to protect your investment from attacks, and this provides yet another reason to purchase from Best Buy.
Are you ready to choose the HP Envy x360?
Make sure you purchase quickly – the $100 discount at Best Buy ends July 28, 2018!