This shop has been compensated by Collective Bias, Inc. and its advertiser. All opinions are mine alone. #GameTimeHero #CollectiveBias

It's almost the end of August, and it's one of my favorite times of year – no, not just because everyone heads back to school. I look forward every year for the email saying that my football season tickets have been mailed out and then the joy of opening up that package to see what the design is this year. Then it's time to start planning the tailgating. We hang with friends every year, and I love bringing just a little something to add to the food and drink they provide. This year, I'm planning to be the hot wings girl.
You know I love to eat and share my food. But part of the fun of tailgating is the hot food that's served. I'm not fancy enough (yet) to be able to keep all my food hot when driving from an hour away and then walking 20 minutes to our tailgate, but I have a new solution. Walmart has Tyson wings at their deli that they prepare fresh all the time. And I mean fresh – when I went to "practice" this weekend, they were out of the wings I wanted and cooked up a new batch for me in just about ten minutes.
It's perfect for tailgating because you can buy them how you need them in a variety of flavors. They have your traditional hot wings (yum!) as well as flavors of boneless wings like honey barbecue and General Tso's. I love being able to buy them by the pound so I can get exactly how much I need and not extra or not too few. In fact, when I told the woman that I wanted 10 wings, that's exactly what I got. You can also buy them as a plated meal or in a Pick 3 Bucket, but for tailgating, buying them by the pound is the way to go. Just stop at the Walmart closest to your stadium, run into the deli, and you're good to go. I plan to bring along an insulated cooler to keep them just a little warmer – and make carrying them easier – but even without that, it's so much easier than cooking them at home and eating lukewarm wings before the game.
That said, I'm still me. I can't bring something that I didn't add my own personal touch to. Wings are best with dipping sauces, and when I was at Walmart doing my trial run this weekend, I picked up some Kraft Ranch and Kraft Creamy Italian dressings to play around with and create fun dipping sauces that will be my homemade touch to the tailgate.
Yes, we could just dip the wings directly into the ranch, but that's so… not me. Instead I got inspired by some of my favorite flavors of wings and created two dipping sauces that I know will be a hit this year. The first is twist on my favorite buffalo chicken dip that is always a fan favorite whenever I make it, and the second is a creamy garlic dip using the Italian dressing. My husband pronounced both of them winners, and my trial of wings ended with empty plates.
I also picked up some veggies to serve with the dipping sauces. I know carrots and celery are the traditional crudite, but my favorite is sugar snap peas. I added those to the mix, and they were the perfect complement to the wings and both dipping sauces. Though my children weren't huge fans of the dipping sauces – at 9 and 10, they're still anti-sauce – the rest of the tailgate spread was perfect. They loved that the wings weren't too spicy for them, and the sugar snap peas were a blast for them to eat.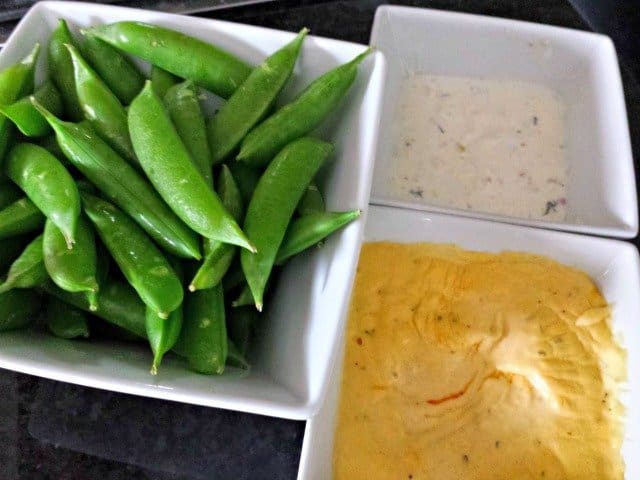 I think I scored – now here's hoping my team can!
The best part about the dips is that they come together in minutes. The cheesy buffalo dip gets heated for just a few minutes, and while you're letting that warm up, it's a snap to mix together the few ingredients for the creamy Italian dip. From the time I started, I had hungry people eating in under 15 minutes – perfect for those mornings when we're racing to get out the door and to the game on time.
For the cheesy buffalo dip, I didn't add any cream cheese, as is traditional, because I wanted it to stay thicker as it cools since I won't be keeping it warm at the tailgate. The addition of extra hot sauce to the mix was perfect, and this was definitely my husband's favorite dip.
Simply add your Kraft Ranch Dressing and mayonnaise to a small pan and heat over medium low.
Once it's stirred together and warm, add the cheddar cheese in batches. If you put too much cheese in at once, it will glomp together and not melt properly. Instead, add about a third of your cheese at a time, stirring until it's melted before adding more.
Once your cheese is melted, turn off the heat, add the hot sauce, and stir until it's combined. It's truly that easy, and it's ready to serve in a heartbeat.
The creamy Italian dip is even simpler. Simply mince your garlic clove and add it to a bowl that contains your Italian dressing and red wine vinegar. Mix the three together, then add your Parmesan cheese, and it's ready to serve. This one is definitely garlicky and reminds me of one of my favorite local restaurant's garlic wings. They make hot wings and they are simply covered in garlic. They're amazingly tasty, and this brings that same feel along with the cool creaminess of the Ranch and Parmesan.
Are you ready for football? The season starts for me on Saturday, and I cannot wait to test these recipes on friends outside my family. You can check them out yourself at a Walmart demo, too. I'm sure you'll think they're just as tasty as we do. Demos are going on August 29-31, so check to see if there's one happening near you!
Dipping Sauces for Hot Wings
These two sauces are delicious and easy to make. They're a perfect dip for hot wings and complement each other perfectly. This makes enough for a group!
Ingredients
For Cheesy Buffalo Dipping Sauce
1 c Kraft Ranch Dressing
1/2 c Kraft Mayonnaise
2 c cheddar cheese, shredded
2 t hot sauce
For Creamy Italian Dipping Sauce
1 clove garlic, minced
3/4 c Kraft Creamy Italian Dressing
1/4 c Kraft Mayonnaise
1 t red wine vinegar
1/2 c Parmesan cheese, freshly shredded
1/4 t pepper
Instructions
For the cheesy buffalo dipping sauce, heat the mayonnaise and ranch dressing in a saucepan on medium low heat. Stir together.
Once heated through, add the cheddar cheese in three batches, stirring to ensure it has fully melted between each addition.
Add the hot sauce and stir until combined. Serve immediately or save for later. This is good hot or at room temperature.
For the creamy Italian dipping sauce, mince your clove of garlic. Add it to a bowl with your Italian dressing, mayonnaise, and red wine vinegar. Stir until fully combined. Add the Parmesan cheese and pepper and stir again.
Serve immediately or chill overnight to let the flavors meld and serve cold the next day.
Serve with hot wings and crudite.
Recommended Products
As an Amazon Associate and member of other affiliate programs, I earn a commission from qualifying purchases.
Nutrition Information:
Yield:

40
Serving Size:

2 tablespoons
Amount Per Serving:
Calories:

101
Total Fat:

10g
Saturated Fat:

2g
Trans Fat:

0g
Unsaturated Fat:

7g
Cholesterol:

11mg
Sodium:

184mg
Carbohydrates:

1g
Fiber:

0g
Sugar:

1g
Protein:

2g
Nutrition for this recipe averages both recipes. This site uses an outside source to provide nutrition. If you need exact details, please calculate yourself.