You need to add these double chocolate zucchini muffins to your repertoire. Some links in this article are affiliate links that earn me a commission if you purchase through them.
When a friend gives me zucchini, I take it. And around the end of summer, there are always people trying to get rid of their excess zucchini.
While my all time favorite recipe for zucchini is my Italian "ratatouille" recipe, I love turning it into sweets, too.
Growing up, my mom made her zucchini bread, which I love. My kids, however, do not love it.
Yay more zucchini bread for me, but there's a limit.
This year, I got creative. I decided to make it chocolate – because who doesn't love chocolate? And I made muffins because it's easier to grab and go.
I reduced the sugar because you just don't need it with the chocolate taste and I increased the amount of zucchini I used per batch. And wow have these flown out of my house.
I've made four batches of these in the past week and a half, the most recent one yesterday afternoon. I have 13 of my original 24 muffins left.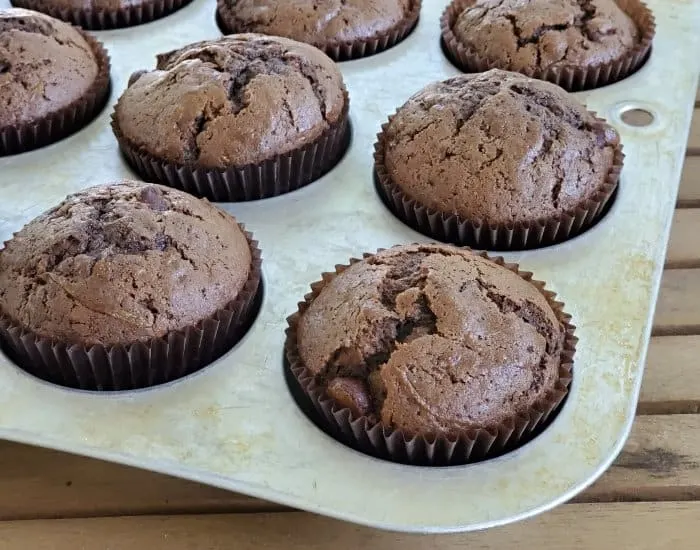 They just keep eating them, and that's a good sign!
These muffins are moist and rich with a dark chocolate flavor. Add in chocolate chips, and it's a perfect pairing.
These are not super sweet sugar bombs, and that's how I like them. This also lets me justify having mor than one when I choose.
Why should I add coffee to my chocolate zucchini muffins?
There is something about coffee that adds a deep richness to chocolate. It compounds the chocolate flavor to make it stronger, and that's what we're going for.
In fact, I add coffee in place of vanilla to just about every chocolate item I bake from classic brownies to chocolate pudding to chocolate cake and more.
With the small amount you use, most people don't have to worry about the impact of caffeine in their chocolate desserts. If you prefer, you can use decaf coffee.
And if you don't have coffee, then go ahead and substitute with vanilla on a one to one ratio. It will still work.
And no, don't use instant coffee crystals. You want brewed coffee; I use the dregs from my husband's morning pot of coffee.
What's the best way to grate zucchini?
Zucchini are soft enough that they grate really well using a box grater. However, they tend to take up space, so I use my coarse cheese grater, and it works just as well.
You can also use a grating attachment on your food processor, but I find that you always end up with a big piece of zucchini it just can't grate. This is easy and quick enough that I just do it by hand.
How do I drain the zucchini?
After you grate your zucchini, you want to remove as much moisture as you possibly can. Removing the moisture lets you add more zucchini to your muffins without having them be too wet.
I grate mine directly into a colander and squeeze it with my (clean) hands. Ideally, I do this about ten times, turning the colander to ensure the liquid escapes and doesn't just go back onto the zucchini.
I also do this step first, before I start making my batter. This lets me give it another squeeze or two just before I add the zucchini to the chocolate muffins, as well.
Do not skip this step. If you put in all this zucchini with the amount of water it has naturally, your muffins will not turn out.
Cupcake liners v spraying with nonstick spray
I fall firmly in the camp of using cupcake liners. They are so much easier, and you have no risk of the muffins not releasing from the pan.
Plus, you can get pretty ones (though to be honest, the dark chocolate obliterates most color in these muffins). Once I get through the 950 – not a typo – cupcake liners in my house, I plan to buy the tulip style cupcake liners for something a little different and fancier.
If you do decide to use nonstick spray, make sure you spray well and let the chocolate zucchini muffins cool for at least five minutes before you try to remove them. They'll fall apart if you try to remove them too soon.
But beware that anywhere you spray that isn't covered by batter develops a nasty scum over time when you bake it. That's another reason I'm a fan of the cupcake liners!
Can I freeze double chocolate zucchini muffins?
Yes, you absolutely can! This recipe makes 24 muffins, so if you won't eat them all at once, freeze some.
To freeze them, place them in a tightly sealed container with as little air as possible. In fact, if you wrap them individually and then put them in a container, they'll last even better.
You can freeze them for up to two months that way.
To defrost, remove them from the freezer and let them thaw on the counter for an hour. If you have it wrapped in plastic, remove the plastic wrap before you thaw it.
Alternatively, you can (again no plastic wrap) heat it gently in the microwave for 20-25 seconds.
How to Make Double Chocolate Zucchini Muffins
Preheat your oven to 350 degrees.
Grate your zucchini. Be sure to squeeze and drain as much liquid from the zucchini as you can, then set the bowl aside.
Line 24 regular size muffin cups with cupcake liners, or spray them with nonstick spray.
In a mixing bowl, add the oil, sugar, and eggs. Beat on high until frothy, usually about 1-2 minutes.
Add the coffee, cinnamon, salt, baking soda, and cocoa powder. Mix on low until the cocoa powder is pretty well incorporated.
Pro tip: If you mix cocoa powder on anything but low, it is light enough that it will fly everywhere and make a mess.
Add the flour and mix on low until just a few white streaks remain.
Add the zucchini, and repeat. Make sure you scrape down the sides and give the whole bowl a stir with your spatula once to ensure everything gets mixed.
Finally, add the chocolate chips and stir just until they're distributed.
Use a muffin scoop to add the batter to each cupcake liner. With the weight of the zucchini, these muffins don't rise as much as some recipes, so you can fill the liner relatively full without concern.
Bake in a 350 degree oven for 20-22 minutes. You want the tops to crack and the muffin to bounce back if you press on it rather than feel soft and sink.
Let cool for five minutes, then enjoy. These are great warm from the oven.
Store any leftovers in a tightly sealed container on your counter for up to three days.
Have you ever made double chocolate zucchini muffins before?
Double Chocolate Zucchini Muffins
The double chocolate zucchini muffins are the holy grail of zucchini. They're easy to make and have a deep, rich chocolate flavor without being overly sweet.
Ingredients
3 cups zucchini, grated
1 cup oil
1 1/3 cup sugar
3 eggs
2 teaspoon brewed coffee
1 tablespoon cinnamon
1 teaspoon baking soda
1 teaspoon salt
1/2 cup cocoa powder
2 1/2 cups flour
1 cup chocolate chips
Instructions
Preheat oven to 350 degrees.
Grate zucchini and drain, then set aside.
Line 24 regular size muffin cups with cupcake liners, or spray with nonstick spray.
In a mixing bowl, add oil, sugar, and eggs. Beat on high for 1-2 minutes.
Add coffee, cinnamon, salt, baking soda, and cocoa powder. Mix on low until incorporated.
Add flour and mix on low until just a few white streaks remain. Add zucchini, and repeat. Scrape down sides and stir once with a spatula.
Add chocolate chips and stir just until distributed.
Scoop batter into muffin tins, filling most of the way.
Bake at 350 degrees for 20-22 minutes until a cake tester comes clean.
Cool for 5 minutes, then serve. Store any leftovers in a tightly sealed container on your counter for up to 3 days.
Recommended Products
As an Amazon Associate and member of other affiliate programs, I earn a commission from qualifying purchases.
Nutrition Information:
Yield:

24
Serving Size:

1 muffin
Amount Per Serving:
Calories:

228
Total Fat:

12g
Saturated Fat:

2g
Trans Fat:

0g
Unsaturated Fat:

10g
Cholesterol:

23mg
Sodium:

160mg
Carbohydrates:

28g
Fiber:

2g
Sugar:

16g
Protein:

3g
This site uses an outside source to provide nutrition as a courtesy. If you need exact values, please calculate yourself.
I am a participant in the Amazon Services LLC Associates Program, an affiliate advertising program designed to provide a means for sites to earn advertising fees by advertising and linking to Amazon.com.