This grilled chicken pockets recipe is a campfire favorite. This was originally a sponsored post.
When Little Miss went to her week long evening Girl Scout camp a couple weeks ago, she came home late one evening raving about what they'd served. She could not stop talking about the grilled chicken pockets they'd made.
And I'll admit, for the $60 I pay for the 4 day with one overnight camp that includes a shirt, bandana, 5 meals, 4 snacks, and all the activities and badges they earn… well, I wasn't expecting her to come home raving about the food.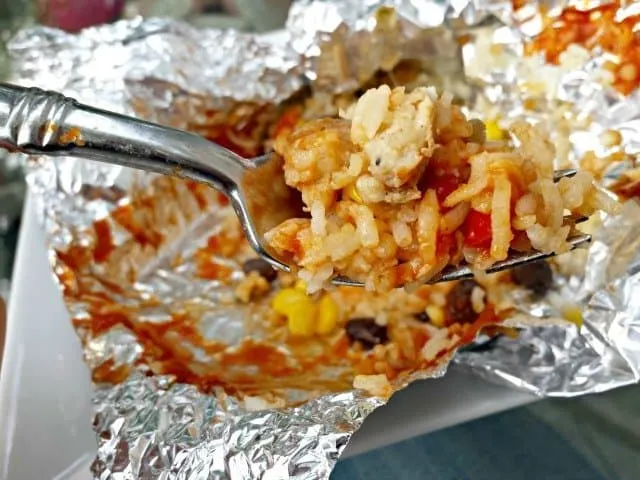 I'm not sure who came up with the grilled chicken pockets, but Little Miss loved them. I thought the idea was way cool, too, because not only was it fast and easy (and obviously cheap), but you can choose what you want to put in them so we can avoid the dairy for Little Miss while going light on the cheese for Mister Man and heavy on the sauce for my husband.
Needless to say, it's been on my mind to try making these at home to see if Little Miss raving about the grilled chicken pockets was her just loving camp or if they really were that good.
We make rice all the time and have plenty of leftovers, and I almost always have some leftover sauce either from spaghetti or pizza I've made at home, which if course means I have shredded cheese, too.
Since this is a "last minute throw it together" kind of recipe, I wanted to have my chicken already cooked.
This is a perfect use for leftover rotisserie chicken or other chicken you prepared. Just chop it to the size you want and use them for your grilled chicken pockets.
(Two other leftover chicken favorites? Easy cheesy chicken enchiladas and chicken egg roll in a bowl.)
Little Miss had a variety of veggies in her pocket, and I wanted to mimic that idea but with a little more flavor than the frozen broccoli and corn she was given. You can use pretty much any and every veggie you enjoy for these.
What veggies can I use in grilled chicken pockets?
This works with an assortment of veggies, so pick your favorites. I like to use frozen veggies because they're already bite size, but you do not need to.
If you use fresh veggies, blanch them first so they are most of the way cooked, as you essentially just heat the grilled pockets and will end up with raw veggies otherwise.
Some of my favorite veggies include:
Corn
Broccoli
Black beans (legume, veggie, whatever)
Zucchini
Red peppers
Summer squash
Onions
Mushrooms
Eggplant
How to Make Grilled Chicken Pockets
Fortunately, the grilled chicken pockets are a cinch to make. Prep your assembly station first.
Ensure your chicken is chopped into bite size pieces, along with the rest of your veggies. Place each ingredient in a separate small bowl.
Tear off four sheets of tin foil about 9×16 inches to serve as pockets for grilling. Preheat your grill to medium, leaving the center off to allow some indirect cooking.
If you don't have leftover rice, cook it in advance and let it cool before you assemble your pockets. The same holds true for your tomato sauce – fee free to use your favorite jarred sauce or make your own marinara, then let it cool.
To start, fold your tin foil in half to make a rectangle about 8×9 inches. Exact measurements do not matter at all here.
Fold over a short end about a half inch to start to form a seal. Fold it a second time just to be sure. Repeat on the opposite side, giving you only the long top as an opening.
Grab a marker and write each person's name on the envelope for the grilled chicken pocket. That prevents and "Hey! I didn't get mine!" type issues once they're cooked.
It's much easier to write on the tin foil before you start filling it. If you're doing a bunch of these for guests, you could get this far in your prep with the envelopes before they arrive then let them fill their grilled chicken pockets when it's time to cook as a fun activity.
Carefully open the top of the pocket wide enough to add ingredients.
Start by scooping in some rice. You want enough to coat the bottom but come nowhere near filling the pocket. We used about a half cup per pocket.
Next, add the chicken to your pocket, again as much as you would like. I found that adding seven to nine bite size chunks was a good amount for us.
Sprinkle your veggies atop the chicken, and yes, we used both the chicken and veggies straight from the freezer. Since all the ingredients are fully cooked, all we need to do is get all our ingredients hot and melty on the grill.
The cheese comes next, which helps prevent it from sticking to the foil since it isn't the ingredient sitting on the top. Lastly, we topped it with our marinara sauce to give it some more flavor and a bit more moisture, too.
The top of the grilled chicken pocket envelope gets folded down and sealed, too, and they're ready to grill.
Add them to the grill in the center or away from direct heat, and let them cook with the cover closed for ten to twelve minutes. You want to give the cheese a chance to get melty and the chicken and veggies to get nice and hot.
Knowing that some of us (ahem, everyone but me) might want seconds, we opened the top of the grilled chicken pocket carefully and then spread it wide to eat the goodies from inside.
Mister Man couldn't stop oohing and ahhing and complimenting Little Miss, who was understandably pretty proud. They were pretty awesome actually, and I loved that we had such a healthy meal with tons of protein and our veggies in one place, so no one could "forget" to eat their veggies.
While I made these on our gas grill, Little Miss had made these over a campfire, and a charcoal grill or even your oven would work just as well. I love the flexibility of these grilled chicken pockets, and the wee ones are already talking about how they want to add these to the menu for their next RV trip.
Hallelujah, fewer hamburger and hot dog meals!
What are you putting in your grilled chicken foil packets?
Grilled Chicken Pockets Recipe
Yield:
6-7 grilled chicken pockets
An oh so fun dinner that is healthy and comes together in minutes. This is perfect for summer days when you don't want to turn on your oven, as well as when you're camping to cook it over a campfire. Switch up the ingredients to include your favorites!
Ingredients
3 cups cooked rice
3 cups cooked chicken beast, chopped
16 ounces frozen mixed vegetables
1 teaspoon cumin
1/2 teaspoon salt
1/2 teaspoon pepper
1 teaspoon paprika
3/4 cup shredded mozzarella cheese
1 cup marinara sauce
Instructions
Heat grill to medium, leaving an area clear of heat for indirect cooking.
Prepare 9x16 inch sheets of aluminum foil. Fold in half to make a pocket 9x8 inches. Fold the short ends over twice, each time about a half inch to create a seal, leaving the top open. Label each pocket with a name, if desired.
Mix vegetables with cumin, salt, pepper, and paprika in a small bowl.
Scoop ingredients into each pocket. Start with the rice, add chicken and then veggies. Sprinkle cheese atop this, and finish with marinara. Exact measurements and amounts are not critical.
Place on grill and cook for 10-12 minutes until the cheese is melted and all ingredients are heated through.
Serve immediately.
Notes
Go ahead and use your fully cooked chicken and your veggies straight from the freezer when at home.
If you don't have leftover rice, you can make quick cooking rice.
When camping, your ingredients won't be frozen, so reduce the cooking time accordingly.
Recommended Products
As an Amazon Associate and member of other affiliate programs, I earn a commission from qualifying purchases.
Nutrition Information:
Yield:

6
Serving Size:

1 pocket
Amount Per Serving:
Calories:

339
Total Fat:

12g
Saturated Fat:

4g
Trans Fat:

0g
Unsaturated Fat:

7g
Cholesterol:

71mg
Sodium:

525mg
Carbohydrates:

33g
Fiber:

3g
Sugar:

4g
Protein:

23g
This site uses an outside source to provide nutrition. If you need exact details, please calculate yourself.