Corned beef hash is one of my favorite comfort foods, but I am so picky about my corned beef hash. Some links in this article are affiliate links that may earn me a commission if you purchase through them.
Every year, I make corned beef for St. Patrick's Day – along with my gram's Irish soda bread and of course a copycat shamrock shake. But I make and buy extra both for that day and whenever I find it in the store just so I can enjoy this corned beef hash recipe.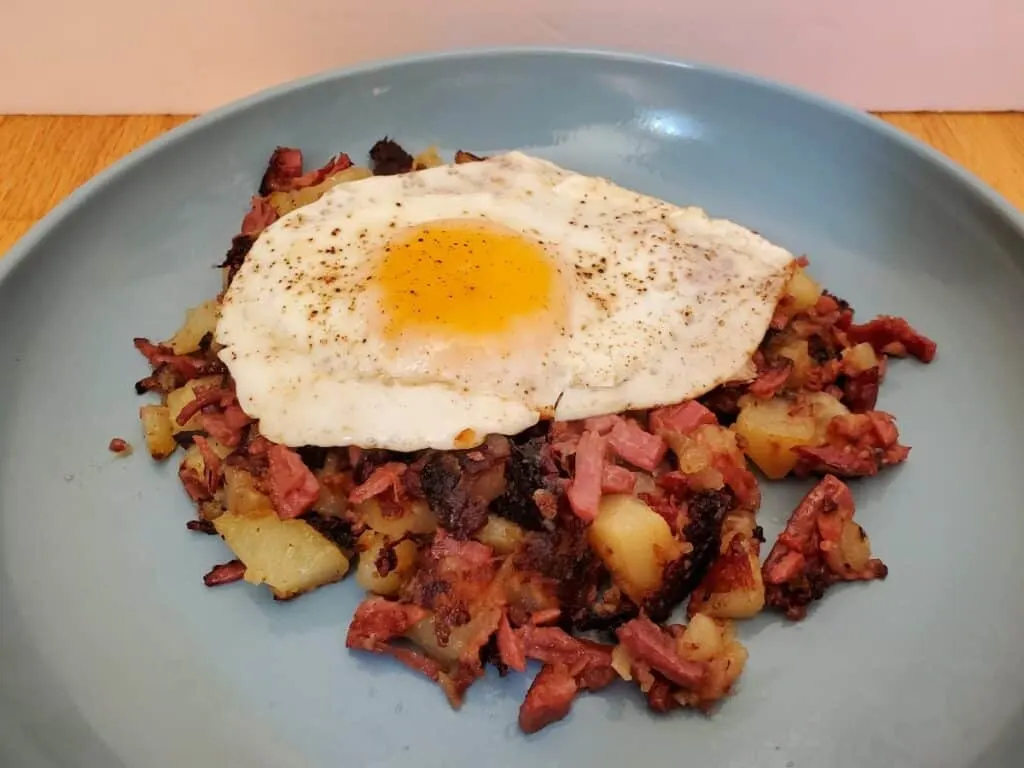 You want to use leftover corned beef for this recipe. I have great recipes for both Instant Pot corned beef and crock pot corned beef, and my family loves both versions.
This is the perfect recipe for leftover corned beef, and it's pretty easy and quick to make.
So often, the hash can be mushy and flavorless. That is not what I want to eat, and I bet you don't either.
What kind of potatoes should I use for homemade corned beef hash?
When you make corned beef hash, use Yukon gold potatoes. These potatoes hold their shape well, but they're also buttery in flavor.
These are not super starchy like a russet potato you use for baked potatoes, although they can work if you need to use them. Boil them an extra minute or two if you use a russet potato instead of Yukon gold potatoes
You do not need to peel the Yukon gold potatoes. Russet potatoes, you want to peel before you chop and parboil them.
What kind of onion should I use for hash?
Make your hash with yellow onion. This is a commonly available, and they have a higher sugar content, so they caramelize beautifully in this hash recipe.
Why isn't my corned beef hash crispy?
Crispy corned beef hash is a must. But if you don't cook it quite right, you can end up with soft or even mushy hash.
Make sure to use enough fat in your pan. The fat makes a difference and helps to create that delicious crust you want.
Additionally, be sure that you have the heat high enough. If you cook it on medium heat instead of medium high heat, it is tough to get that crust. Don't be afraid of heat.
The goal with crispy corned beef hash is to have some bits really well cooked, some browned, and some cooked through. The different textures and flavors add to the perfection of this dish.
What do I serve with corned beef hash?
Corned beef hash pairs beautifully with pretty much any breakfast. I love to add a soft poached egg or a sunnyside up fried egg to the top of my hash.
You really can't go wrong though. This works well with any type of egg, as well as pancakes or even French toast.
Technically, you could just eat it by itself if you wanted to. I may or may not have done that myself.
How do I keep my hash from sticking to the pan?
First, do NOT use a nonstick pan. For homemade corned beef hash, you need to use medium high heat, and nonstick pans are not safe over medium heat.
Nonstick pans also won't give you that crispy crust you want.
I use my cast iron skillet when I make corned beef hash because it holds heat and conducts it evenly. And yes, my hash doesn't stick to my cast iron skillet.
Heat your cast iron skillet before you add anything to the pan. This lets the pores in the metal open, so when you add the oil and butter, it creates a nonstick layer.
The other big key is to leave your hash alone. It's so tempting to stir and stir again, but let it sit and form a crust, then flip it over. If you keep stirring, it will stick.
What else can I add to my corned beef hash?
I like simplicity with just onion, garlic, potatoes, and corned beef. However, you can dress it up with more ingredients if you have them on hand or if you prefer them that way.
Add chopped green peppers, something you often see in restaurant corned beef hash. I have also seen people add chopped carrots, which gives it a little sweetness.
Another swap that I've seen people use is sweet potatoes in place of the Yukon gold potatoes or even a half and half mixture. If you do this, give them an extra minute or two in the boiling water.
You can also add spiciness to the hash with anything from horseradish to cayenne pepper to red pepper flakes. I prefer the "pure" flavor of the hash with the potato and onion only.
And yes, when I have fresh parsley, I'll add that to my dish at the end, too.
How to Make Homemade Corned Beef Hash
Start by bringing a pot of water to boil. Unlike when you boil pasta, you don't want to salt your water.
While the water comes to a boil, cube your potatoes into approximately one inch cubes. Add them to the boiling water and cook for about 10 minutes.
Remove the potatoes after 10 minutes, and pat them dry. You do not want to add water to hot oil.
While the potatoes cook, dice your onion and mince your garlic. Set them aside (separately).
Chop your leftover corned beef into bite size pieces, and hold it for later.
Heat your cast iron skillet on medium high heat. Once your skillet is hot, add the unsalted butter and oil.
As soon as the butter melts, add the onion, salt, and black pepper, and let this cook for three to four minutes until the onion starts to turn translucent. Add the garlic, and cook for just a minute or so.
Add the now dry potatoes and corned beef, and stir just enough to mix it up. Use your spatula to press down on the mixture, then leave it alone.
Let the hash cooked without touching it for six or seven minutes. It will brown and get a crispy crust.
Flip it at this point, and let it cook again without disturbing it for another five to six minutes. Keep cooking for a total of 20 minutes, flipping occasionally, until your mixture is crispy and browned throughout.
Serve it immediately.
Bookmark this homemade corned beef hash recipe to make again.
Corned Beef Hash
Make perfect crispy corned beef hash to enjoy for breakfast. It's the perfect use for your leftover corned beef.
Ingredients
2 1/2 pounds Yukon gold potatoes
2 tablespoons unsalted butter
1 tablespoon vegetable oil
1 large yellow onion, diced
2 cloves garlic, minced
1/2 teaspoon salt
1/2 teaspoon black pepper
1 1/2 pounds corned beef (cooked and cooled)
1 teaspoon fresh parsley, optional
Instructions
Bring a pot of water to boil.
While water heats, cube potato into one inch pieces, dice onion, mince garlic, and chop corned beef. Keep each ingredient separate and reserve for later.
Boil potato cubes for 10 minutes. Finish chopping ingredients while potatoes boil.
Remove potatoes and pat dry.
Heat cast iron skillet on medium high heat. Once hot, add butter and oil, then add onion and cook 3-4 minutes.
Add garlic and cook another minute. Add potatoes and corned beef, and stir gently just once.
Press down on mixture with a spatula, and let cook 6-7 minutes.
Flip, and cook another 5-6 minutes, then flip. Keep cooking a total of 20 minutes, flipping periodically.
Remove from heat when hash is crispy and browned. Serve immediately.
Notes
Yukon gold potatoes work best for this recipe. You do not need to peel them. You can use russet potatoes or even sweete potatoes, but you will need to peel those and boil them a minute or two longer.
For more tips and tricks, be sure to read the full article.
Recommended Products
As an Amazon Associate and member of other affiliate programs, I earn a commission from qualifying purchases.
Nutrition Information:
Yield:

6
Serving Size:

1 serving
Amount Per Serving:
Calories:

526
Total Fat:

28g
Saturated Fat:

10g
Trans Fat:

0g
Unsaturated Fat:

15g
Cholesterol:

121mg
Sodium:

1300mg
Carbohydrates:

43g
Fiber:

5g
Sugar:

3g
Protein:

26g
This site uses an outside source to provide nutrition as a courtesy. If you need exact values, please calculate yourself.
I am a participant in the Amazon Services LLC Associates Program, an affiliate advertising program designed to provide a means for sites to earn advertising fees by advertising and linking to Amazon.com.