This recipe for homemade spiced creamer and an iced coffee float was originally sponsored. Some links are affiliate links that earn me a commission if you purchase through them.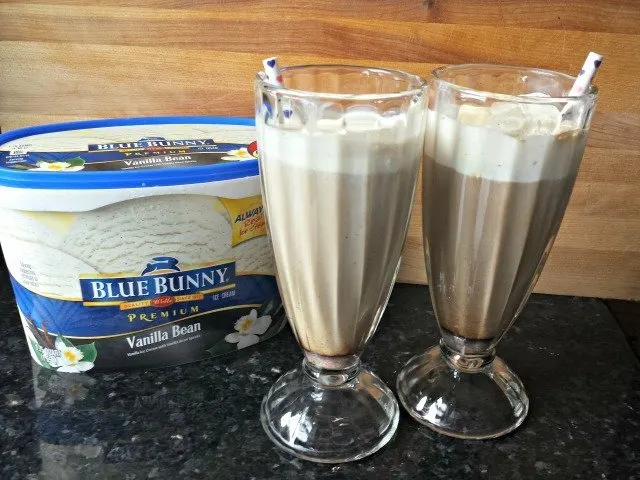 It's hot, yo. As much as I complain about the cold weather during Chicago's winters, I'm just as apt to complain about our hot and humid weather in the summer.
Really, I need to have a biodome with my 76 and sunny, low humidity, with a light breeze, but that isn't likely to happen anytime soon. That's why I made an iced coffee float.
Even the guy on my thermometer agrees that summer is here and it's time to cool down. I will admit, the cheekiness of his daily clothing does at least make me smile.
Even in the winter when he's bundled up with a coat, hat, scarf, and mittens. Today of course, he's in his skivvies and sunglasses, and I'm pretty sure he'd take an iced coffee float if he could figure out how to get it in his hot little hands.
With the wee ones heading to summer school for an 8am start (and two of their friends being dropped for carpool by 7am each day), I need my caffeine, but with the hot weather, I've made the switch from hot coffee to iced.
Since I'm one of those who likes her coffee "doctored" (yum!), that means I'm making my creamer at home to add to my iced coffee. This time around, I made a spiced creamer that is amazing.
That said, I don't go through enough creamer to use up my recipe before it goes bad, which is where making iced coffee comes in really handy. Why? I freeze my creamer and simply add the frozen creamer cubes to my coffee mug before the coffee, and voila!
Best of all? The iced coffee doesn't get watered down when it takes me awhile to drink. I may or may not have patted myself on the back with this genius idea.
Do you love coffee as much as I do? Check out more coffee inspired recipes at the end of this article.
How to Freeze Creamer for Later Use
And? If you don't have an ice cube tray (like me because – hello! – icemaker in my freezer), that doesn't mean you can't freeze your creamer into cubes.
Simply use a mini muffin tray and fill it not quite to the top (so you don't spill *cough*) and freeze them for a couple hours, then run the bottom of your tin under warm water for a few seconds – literally just a few seconds as they'll melt again quickly – and pop them out.
Store them in a zip top bag in your freezer to keep them good for up to two months, but mine never last that long!
While shopping the other day, a light bulb went off in my head, and suddenly my iced coffee turned into an iced coffee float.
Granted, I switch to decaf to make the iced coffee float because I'm enjoying it in the afternoon instead of the morning (or so I'm telling you!). I also use "just" one of the homemade spiced creamers instead of two for the ice coffee float because the ice cream adds the rest of the sweetness and creaminess that I'm looking for.
I made one for me and one for my husband (who drinks his coffee black or with just a little milk usually), and he gulped the entire thing down before I could get a single photo.
Do you think that means he liked it? I enjoy savoring my iced coffee float, however.
His iced coffee float was straight espresso, with the creamer and ice cream, while I did more of the cafe americano version by adding some water to my shot of espresso before topping it with my scoop.
So easy and so delicious, this was the perfect summer treat for us. In fact, this may become the featured drink for my next barbecue – how fun would that be? Easy prep I can do ahead of time and then wow my guests? Love it!
Iced Coffee Float Recipe
(and homemade spiced creamer)
Personally, I like making my own creamer. I know exactly what's in it, and I can flavor it any way I want. This super simple spiced creamer is my current favorite, and I love that it's something that isn't commercially available, too.
To make it, you need a can of sweetened condensed milk, regular milk, cinnamon, nutmeg, vanilla, and almond extract. It's amazing how this tastes. This recipe makes twenty-four frozen cubes for your iced coffee float, and you have a little extra to enjoy right away, too.
I store my extra in a mason jar. That makes it easy to shake up before using and then pour into my coffee. Pro tip: make sure you seal it tightly and keep it in your fridge.
To make the creamer, add the sweetened condensed milk and regular milk to a heavy saucepan. You want to heat this up just a tiny bit so that it incorporates well without actually cooking it.
Simply stir it together, and once the two milks are one homogeneous mixture, turn off your heat. You could make this off the stove by shaking it, but I prefer this method to ensure I have no lumps at all.
Add the cinnamon, nutmeg, vanilla, and almond extract. To get the cinnamon to incorporate into the creamer, use a whisk or Aerolatte.
The cinnamon will resist a bit, but keep at it and it will mix in there enough to provide the flavor you want.
From there, I like to pour my creamer into my liquid measuring cup. This lets me pour cleanly and not make (as much of) a mess. It's another of those ideas where you go "duh" but just don't think about most of the time.
Simply pour your creamer either into your ice cube tray if you have one or your mini muffin tin if you're like me and don't. Fill them not quite to the top so nothing spills when you're placing it in the freezer.
Freeze, pop them out, and store in a zip top bag until you're ready to use them. This doesn't take long to freeze, less than two hours. Thankfully that means not too much delayed gratification when you want your iced coffee float.
Once your homemade creamer is frozen, get ready to assemble your iced coffee float.
For the coffee, feel free to make your favorite kind whether it's the espresso pot on the stove like we do or the single cup machine or anything in between. That allows you to determine the strength you want. In my house, my husband loves strong coffee, and I'm a wimp.
Once you make your coffee, remove your frozen creamer cubes and place them in the bottom of your glass.
Pour your coffee over the creamer cube, letting it melt and cool your coffee at the same time. If you're using espresso, dilute as needed.
Make sure you leave room at the top for your ice cream, but you want this most of the way full. Make sure you leave a couple inches clearance.
Now it's time to turn that iced coffee into an iced coffee float. Pull out your ice cream, and scoop up a beautiful ball of yum.
Carefully place the scoop of ice cream into your iced coffee. Watch it start to melt and make your iced coffee float creamy and even more delicious. Add a straw, and you're ready to go.
I'm so in love with this iced coffee float. How will you make it?
More favorite coffee inspired recipes:
I am a participant in the Amazon Services LLC Associates Program, an affiliate advertising program designed to provide a means for sites to earn advertising fees by advertising and linking to Amazon.com.