These double chocolate muffins disappeared in a heartbeat in my house. I bet they will in yours, too! Some links in this article are affiliate links that earn me a commission if you purchase through them.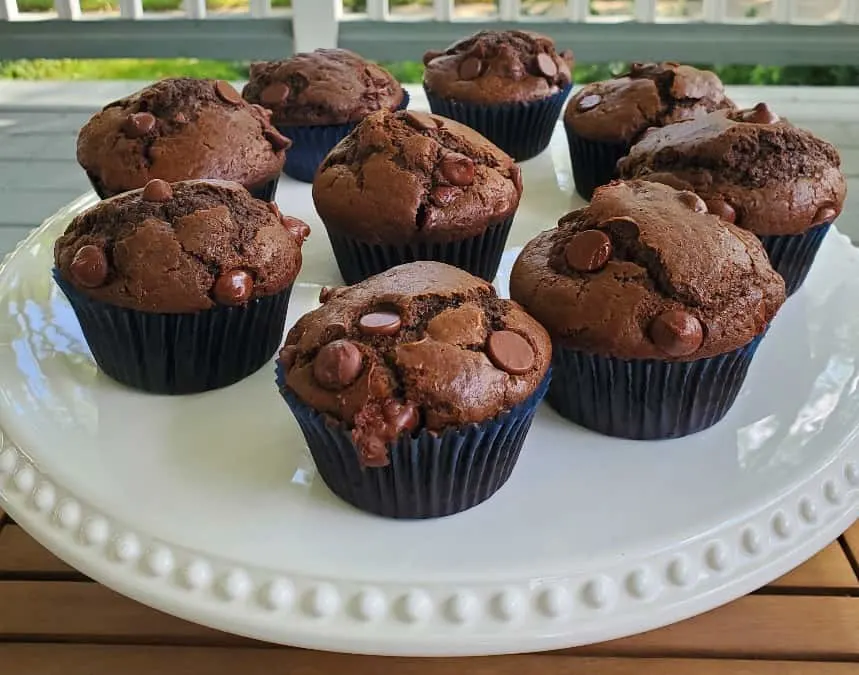 Originally I planned to make pumpkin cranberry muffins. Then I discovered I had no cans of pumpkin, though I swear they're still somewhere in my pantry.
However, I had promised muffins to a friend who planned to drop off something for me, so I had to make something. That means no pumpkin chip muffins either, and we oddly have no overripe bananas at the moment, so no banana muffins either.
You can find more of my favorite muffin recipes at the end of this article.
I remembered the dairy free chocolate chip muffins I had made years ago and decided to update them.
Thankfully, my daughter can now eat dairy, but I also wanted to update these. My goal: to make them even more intense in their chocolate flavor while still making moist chocolate muffins.
Mission accomplished.
I intended these to be breakfast for my kids, but they decided these are perfect snack muffins, too. And I think my son might have had one for dessert.
Apparently, these are all purpose muffins and work for breakfast, lunch, and dinner.
Why add coffee to chocolate muffins?
I add coffee or espresso to every recipe that uses chocolate. It makes the chocolate flavor deeper and richer and more pronounced.
The good news is that my husband rarely fully empties the coffee pot in the morning. The extra strong dregs are perfect for baking.
I generally don't make a fresh pot of coffee just for this, as cooled coffee works just fine, and it takes the place of much pricier vanilla. (Wow has vanilla gotten expensive the last few years!)
Do I need a mixer to make these chocolate breakfast muffins?
Absolutely not. In fact, I usually don't use a mixer at all when I make these muffins, but I started with the dry ingredients in my stand mixer bowl, so I did this time.
You want to treat muffins gently once you add the liquid ingredients to the dry ingredients. The more you mix them, the tougher they'll get – and they will develop holes inside when you bake them.
If you do use a mixer, never turn it higher than your lowest speed. Otherwise, use a spatula to mix ingredients together.
The only time you need anything aside from a spatula is a whisk to whip up the eggs. Use that for the liquid ingredients, as the better you whisk your eggs at the start, the more air you incorporate and the lighter your muffins in the end.
Why do you bake muffins at two temperatures?
Here's the secret to those gorgeous dome top muffins: bake at a high temperature for a few minutes, then turn down the temperature to bake them the rest of the way.
The higher initial temperature causes the batter to bake and rise quickly, which gives you a nice shape to your muffin. However, if you leave it at a high temperature, it dries out the muffin by the time the inside is baked.
Instead, after five minutes, turn the temperature down by 50 degrees, and voila – perfect bakery style muffins. Who knew it was so easy?
How to Make Double Chocolate Muffins
Preheat your oven to 425 degrees.
Add cupcake liners to your muffin tin. You could grease your muffin tins, but over time, that leaves a gross sticky coating on your tins, and the liners are way easier.
Melt your butter over low heat while you get the dry ingredients together. Once it melts, remove it from the heat and set it aside.
In a mixing bowl, add the flour, sugar, cocoa powder, baking powder, baking soda, salt, and chocolate chips. Mix well to ensure everything is well combined.
Add the milk to a large liquid measuring cup. Add the eggs and coffee and whisk to combine. You want to mix this really well.
Pour the melted – now slightly cooled – butter into the measuring cup while whisking to incorporate. Don't stress if you get a few tiny clumps.
Pour the liquid ingredients into the dry ingredients. Mix on low just until the batter is incorporated; lumps are fine!
Use a muffin scoop to add the batter to your muffin tins. They will be relatively full.
Optional step: add six or seven chocolate chips to the tops of each muffin. This just makes them look even prettier.
Bake your double chocolate muffins for five minutes at 425 degrees, then turn the heat to 375 degrees and finish baking for another 9-11 minutes. They should be lightly cracked on top and spring back if you gently press them. (Watch the melted chocolate though – that burns!)
Let them cool in the muffin tins for ten minutes, then serve. Store any leftovers in a tightly sealed container on your counter for two to three days.
Have you ever tried double chocolate muffins for breakfast?
More of my favorite muffin recipes:
Double Chocolate Muffins
Additional Time:
5 minutes
Enjoy these super moist double chocolate muffins for breakfast, a snack, or even dessert. They have a dark, rich chocolate flavor you're sure to love.
Ingredients
2 1/4 c flour
3/4 c sugar
1/2 c cocoa powder
1 T baking powder
3/4 t baking soda
1/2 t salt
1 1/2 c chocolate chips
1/2 c butter, melted
1 1/4 c milk
2 eggs
1 T coffee
Instructions
Preheat oven to 425 degrees. Line muffin tins with 18 muffins papers.
Melt butter and set to the side.
Add flour, sugar, cocoa powder, baking powder, baking soda, salt, and chocolate chips to a mixing bowl. Stir to combine.
In a liquid measuring cup, add the milk, eggs, and coffee, then whisk thoroughly. Pour in melted butter, and whisk again.
Pour wet ingredients over dry ingredients and stir until just mixed. Batter will be lumpy.
Scoop muffins into prepared tins, filling almost to the top. Add extra chocolate chips to top of each muffin, if desired.
Bake in 425 degree oven for 5 minutes, then turn down to 375 and bake for 9-11 minutes, just until cake tester has a few crumbs on it.
Let cool for 10 minutes, then eat warm or store in an airtight container on counter for up to 3 days.
Recommended Products
As an Amazon Associate and member of other affiliate programs, I earn a commission from qualifying purchases.
Nutrition Information:
Yield:

18
Serving Size:

1 muffin
Amount Per Serving:
Calories:

230
Total Fat:

11g
Saturated Fat:

6g
Trans Fat:

0g
Unsaturated Fat:

4g
Cholesterol:

36mg
Sodium:

258mg
Carbohydrates:

32g
Fiber:

2g
Sugar:

16g
Protein:

4g
This site uses an outside source to provide nutrition as a courtesy. If you need exact values, please calculate yourself.
I am a participant in the Amazon Services LLC Associates Program, an affiliate advertising program designed to provide a means for sites to earn advertising fees by advertising and linking to Amazon.com.