This pomegranate fizz cocktail is a favorite in my house across many holidays. Some links in this post are affiliate links that earn me a commission if you purchase through them.
As I've mentioned before, I host a cookie swap every year. I make everything from candy cane brookies a chewy lemon cookie to fudgy chocolate peppermint cookies.
My friends always bring amazing cookies, as well as appetizers to munch on. It's a fun evening, and I love having people over to celebrate.
To make the night special every year, I create a signature cocktail to serve with the cookies and appetizers. I always have other beverages available, but this refreshing recipe is one I cooked up for this year's cookie swap, and it was so much fun to look at and to drink.
Need more cocktail ideas? Check out my favorite at the end of this article.
It's always fun to find ways to incorporate the colors of the holiday into my signature drink, and this pomegranate fizz does it beautifully. I love the floating pomegranate arils added to the top, as well.
They add a fun and unique look to the drink. Many of them float due to the ginger ale I add as a topper at the end, rather than sinking like they normally do.
The recipe was easy to make, mostly because I used pomegranate juice that I bought rather than making my own from pomegranates I had in the house. I prepped a pomegranate the day before and removed all the arils and set them in a dish.
Why seed my own pomegranate instead of buying the arils in a cup? Well, $4.98 for a cup of arils v $1.29 for a whole pomegranate.
It's easier than you expect to seed a pomegranate. If you've never done it before, I definitely recommend my how to post that includes a video demonstration.
The simple syrup I also made the day before, and earlier in the day before the party, I mixed together the vodka, simple syrup, and pomegranate juice in a pitcher. A make ahead party drink always makes me happy.
All we had to do to serve ourselves was pour a glass of the pomegranate mix, top it with some of the ginger ale and add a few pomegranate arils. It took seconds, but the visual appeal was exactly what I was looking for.
Though I made this pomegranate fizz as a Christmas cocktail for my cookie swap, with the vibrant red color, it's perfect for a variety of holidays. Enjoy this for Valentine's Day, at your New Year's Eve party, or any time you can find fresh pomegranate.
How to Make Simple Syrup
So yes, you can find simple syrup in stores sometimes, but why buy it when it's so easy to make it? Simple syrup is basically one part water and two parts sugar.
However, if you just add a half cup of sugar to a quarter cup of water, most of the sugar just sits there. You have to supersaturate the water so the sugar can dissolve, but it's ok if you don't remember your chemistry days.
As you heat water, there's more space between each water molecule, which lets sugar molecules move into that space and dissolve. And once the sugar is in solution, it doesn't fall out once you cool it.
In short? Heat your water to a boil in a saucepan, then add the sugar once the water is already hot. This helps keep it from cooking the sugar and caramelizing.
Gently swirl the pot, which encourages the sugar to find those spaces between water molecules. If you prefer, use a whisk to stir it instead. Make sure you do not splash the boiling water no matter what you do.
As soon as your sugar is completely dissolved, remove the solution from the heat.
Make sure you let your simple syrup cool completely before you use it in your cocktail. You can make this ahead of time and simply store it in your fridge in a tightly sealed container, too. With just sugar and water, it lasts for well over a week, and who preps more than a week ahead for a party?
How to Make a Pomegranate Fizz
While this recipe makes a single serving, it scales up so easily for a party. Just double or quadruple the recipe – you get the idea!
I also recommend making extra simple syrup just in case. You'd hate to run out, and sugar and water are so cheap.
If you want to prep for a party, make the base first, and then just add the ginger ale and the arils before serving. You can prep that part several days in advance. Just keep it in a pitcher in your fridge, tightly covered, until your guests arrive.
In your cocktail shaker, add ice to chill your drink. If you're making this in advance, just mix it all in a pitcher and then place your pitcher in the first, covered to seal it.
Here's what I learned about ice: Use full size ice cubes so your drink doesn't get watered down. And your drink gets fully chilled in a cocktail shaker in 10-12 seconds, so you don't need to shake forever.
Pour the vodka, pomegranate juice, and simple syrup over the ice. Close your shaker, and… shake!
With the strainer on, pour your cocktail into your glass so the ice stays in your shaker. I like to use a highball glass or even a martini glass for this one.
Top your pomegranate fizz with the ginger ale, then add the pomegranate arils. Serve immediately.
Have you ever tried a pomegranate fizz?
More favorite cocktails: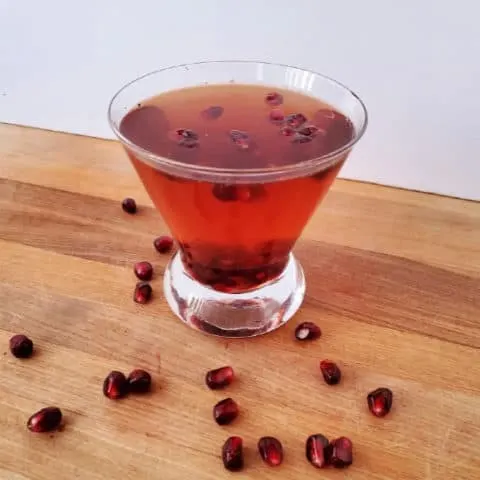 Pomegranate Fizz
A quick and easy drink that is unique and fun to drink. The pomegranate seeds will float thanks to the ginger ale in the drink.
Ingredients
1 oz simple syrup
1 oz vodka
1 oz pomegranate juice
1.5 oz ginger ale
Pomegranate arils
Instructions
Seed a pomegranate and place arils in a bowl.
Add ice to a cocktail shaker, and top with simple syrup, vodka, and pomegranate juice.
Seal, then shake for 10-12 seconds. Strain into a glass.
Top with the ginger ale and add pomegranate arils, then serve immediately.
Notes
Create your simple syrup and cool it ahead of time. In a small saucepan, heat one part water to a boil. Add two parts sugar once the water is boiling (if making 1 cup of water, add 2 cups of sugar). Gently swirl the pot until the sugar is dissolved, then remove the syrup from the heat and let cool.
You can make as many or as few servings as you like keeping the ratios the same. If you make this in advance, mix the simple syrup, vodka, and pom juice in a pitcher and store in your fridge (covered) until it's time to serve.
Do not add the ginger ale until you are ready to serve, or the drink will go flat.
You can also make this a kiddie version by simply mixing one part pomegranate juice with two parts 7UP, which takes the place of the simple syrup.
Recommended Products
As an Amazon Associate and member of other affiliate programs, I earn a commission from qualifying purchases.
Nutrition Information:
Yield:

1
Serving Size:

1
Amount Per Serving:
Calories:

381
Total Fat:

3g
Saturated Fat:

0g
Trans Fat:

0g
Unsaturated Fat:

1g
Cholesterol:

0mg
Sodium:

15mg
Carbohydrates:

74g
Fiber:

11g
Sugar:

60g
Protein:

5g
This site uses an outside source to provide nutrition. If you need exact details, please calculate yourself.
I am a participant in the Amazon Services LLC Associates Program, an affiliate advertising program designed to provide a means for sites to earn advertising fees by advertising and linking to Amazon.com.