Many thanks for the complimentary tickets I received in exchange for this Wild West Town review.
I've heard about Wild West Town in Union, Illinois for a long time. Back when Mister Man was in kindergarten, his best friend's mom told me how fun it was and how it was their favorite place to go. We planned to go with them, but somehow we never made it. A couple weeks ago, we finally headed up to Donley's Wild West Town, with me a little worried that we might have missed the sweet spot and that the wee ones might be a little too old for it.
Silly me.
We had a blast. And by "we" I mean my husband and I, too. In fact, we stayed until the place closed at 6pm. There was so much to do, and the people working there were so friendly, we hung out far longer than I'd ever expected to when we first got in the car to head out there.
When we arrived, there was a school group there, and I realized that this would be a perfect school field trip for our school, too. There is a lot to do plus some educational aspects, too. We had so much fun outside with the activities that we never had time to fully explore the museum and other buildings on site. Even with another school at Wild West Town with us on a field trip, it wasn't crowded, and we had plenty to do without waiting in lines.
There are many activities, some of which require punches on an activity card that you receive when you arrive, and some of which you're able to do as often as you like. For the attractions where you need to use your punch card – archery, the roller coaster, pony rides, etc – there are two punches available for each one. Except for the pony rides, you can also use punches for other attractions if they find something they want to do over and over again (for us, it was the roller coaster).
In fact, the first time we went on the roller coaster, Little Miss refused because she was scared. We felt safe enough to have her stand next to the ride – with the ride operator volunteering to keep an eye on her for us – while the three of us rode the roller coaster. Mister Man couldn't wait.
And interestingly, when we got off, Little Miss bounced up to me and announced she wanted to ride it, too. Not one to talk her out of something like that, we put her on the roller coaster, and she loved it. She and Mister Man went on it over and over again – using up almost all their punches on the roller coaster throughout the day. It was enough of a thrill ride that Mister Man enjoyed it, while being low enough to the ground that Little Miss didn't get freaked out by it, which was the perfect compromise to make everyone happy.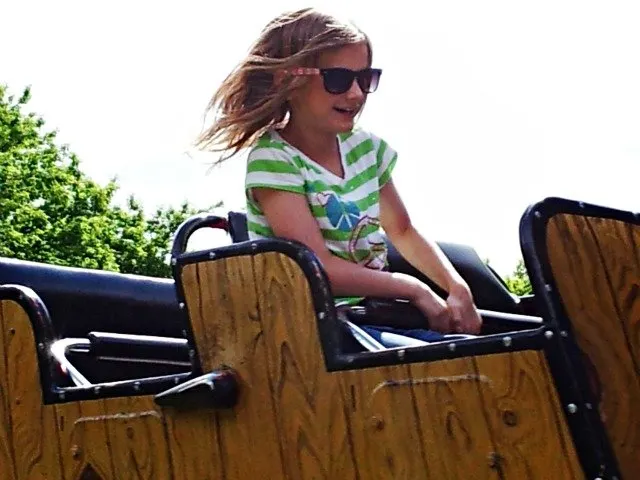 There are plenty of other activities that don't require punches that are a hoot, as well. They include everything from hand crank railroad cars (that adults can also ride on) to panning for "gold" to the carousel and more.
We started on the carousel and then headed to pan gold. In fact, every time we passed that area, the wee ones insisted we stop to pan for more gold. Mister Man alone found over 150 pieces of gold for his little bag that Donley's Wild West Town provides.
There's so much more than just the gold panning and carousel, however. Wild West Town offers live shows three times a day – at 12, 2, and 4:30. The 12 is a different show from the 2 and 4:30 version, so you can watch two different shows. Each lasts around a half hour. They start with a child friendly explanation about guns and their dangers and the training the actors go through to use them – along with a caution that blanks don't mean no one can get hurt. After shooting through a pop can and showing the hole that a blank can make, the show continues. Needless to say, as a parent, I appreciate their words of caution that I think really sank in.
The shows themselves are cute and silly and funny. They of course involve a bad guy (and girl in one show) who need to be caught by the sheriff after committing some crime. They involve plenty of humor and chasing, with some very fun stunts, as well. After seeing the first show, we definitely made it a point to come back again for the second show.
The pony rides involved walking once around a large circle path, which the wee ones enjoyed. They liked being on horseback and swaying, but it was no more than two minutes on horseback. After the first ride, the wee ones decided they'd rather use their punches elsewhere. Had the ride been a little longer – even twice around the circle – the wee ones would have been more interested. With two ponies available at a time and the number of children visiting Donley's Wild West Town, I appreciate the sparing of the horses.
Instead the wee ones found plenty of other activities to keep them busy. They loved the canoe ride around a little lazy river. They had a blast shooting arrows at targets and learning how to aim and shoot a slingshot. All the activities related to the old west – with the exception of the roller coaster and carousel. There were cork guns to shoot in a shooting gallery and roping cow statues, as well. We missed the cow roping, however, as no one was manning it the times we walked past. There is also a train ride around the park, but the tracks were being repaired the day we were there. That said, there was no shortage of activities for us, and we didn't miss the few we didn't do! Besides, there was more pyrite to be panned, as the wee ones kept telling me.
There is also an arts and crafts shack where children can pay to create sand art or paint a box or more. We chose not to do that as we were having too much fun with the other activities. I appreciated that while there were plenty of places to purchase souvenirs, they weren't so prominent that it was distracting from the other activities.
And yes, there was fun for adults, as well. My husband and I learned how to throw a tomahawk, something I never imagined I would do. We both hit the target after a bit, and I even managed to hit the bullseye. In fact, on my second go-round, I hit the center of the bullseye. Unfortunately, my husband refused to take a photo of me with it because he hadn't managed to do that. Adults can also ride the roller coaster and the hand cars, which we both enjoyed. They can also hop on the carousel and pan for gold, plus participate in all the shooting activities.
Since we were there for the vast majority of the day, we eventually got hungry. Fortunately, there is an ice cream parlor on site (though we didn't enjoy it) as well as a full service bar and restaurant. The Old West Steakhouse was so much fun. You'll find it decorated with artifacts from the west and serving great food at reasonable prices. Best of all, the chef is able to accommodate dietary concerns. Little Miss's dairy allergy wasn't an issue at all.
The kids menu provided the usual types of choices from mac and cheese to spaghetti to burgers and chicken strips. Mister Man thoroughly enjoyed his pizza, and Little Miss gobbled down her verified dairy-free meal, too. I enjoyed a pulled pork sandwich with the most tender pork, though personally I wished for a little more spice to the barbecue sauce. I certainly wasn't complaining – especially not with my homemade strawberry lemonade to wash it down. My husband loved his burger with bacon and cheese. We all walked out comfortably full and ready to enjoy more of the park.
By the time we were finally ready to go – at closing time – the wee ones announced they intended to return the next day. I feel bad that we hadn't been to Donley's Wild West Town before, but we will definitely be back. For $16 per person, it was a really enjoyable day. Even better, on Mondays and Tuesdays, grandparents get in free with a paying child. So yes, the wee ones insist my parents have to experience the fun, too. Or you can buy a season pass for a family of four for $135. By your third visit, the pass has paid for itself!
Haven't been yet? Go. It was an experience that was more than enjoyable for my 7 and 9 year old children. We also found plenty to do for younger children, as well, making it fun for the whole family. Proof that we had a blast? There was a school group there the day we went. That inspired me to write to the principal at our school with a field trip suggestion. And that's one field trip I'll volunteer to chaperone!
Have you ever been to Donley's Wild West Town?